2013 Honda Civic
Thu, 21 Feb 2013 12:00:00 EST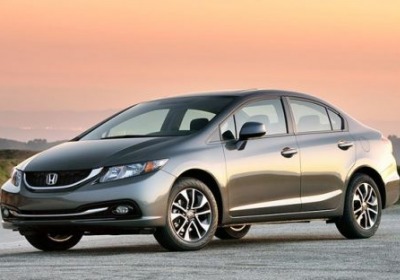 Lather, Rinse, Repeat

On some level, it's hard to blame Honda for the strategy it took with its new-for-2012 Civic. Executives looked at the key players on the market as the model was being developed, soaked in the growing global economic malaise, and decided that if they wanted to make decent money on their small car, they'd have to find creative ways to take cost out of its build. In light of the financial crisis, consumers and critics would surely understand some belt-tightening in order to secure the company's legendary reliability, resale value and ease-of-use, right?

So Honda took a pass on expensive new technology – more complex transmissions, forced induction, active aero, and so on. And it also substituted in some cheaper interior materials, skimped on sound deadening, creature comforts and found lots of little ways to save money. Surely in a segment where the frankly ancient and moth-eaten Toyota Corolla has consistently ranked among the sales leaders, nobody would care, eh?

Well, Honda was half right. After an unusually long product cycle with the eighth-generation Civic, loyal customers were all too eager to plunk down their hard-earned cash for a new model, with 2012 sales totaling well over 300,000 units. But the model's long-term prospects were less certain. That's because Honda miscalculated the strategies of its rivals, playing things close to the vest when others chose to double-down in the segment.

Between the time the 2012 Civic's design was locked in and the moment it hit the market, the compact car fray became exponentially more competitive. Ford took the wraps off of its sophisticated and tech-rich Focus. Hyundai rolled out its audaciously styled and value-laden Elantra. Mazda took its already great-driving Mazda3 and elevated its fuel economy with Skyactiv engineering. Even perennial small car backmarker General Motors put forth a high-quality effort with its mature new Chevrolet Cruze. Critics' reaction was no less swift and stern: Not only was the 2012 Civic a galactic comedown in terms of interior appointments and design, it wasn't as much fun to drive as its predecessor, nor was it the least bit innovative. For a company that made its nut – and its reputation – on the back of its engineering prowess, all of this was bitterly disappointing.

We're not sure whether it was enduring the media drubbing (that Consumer Reports fall-from-grace had to sting), looking around at its suddenly fierce competition, fielding embittered calls from its dealers or just a simple bit of soul searching that spurred Honda to react so quickly, but here we are, just one model year later and there's a surprisingly comprehensive update on sale. But is it an impressive about-face for Honda or just a bit of apple-polishing and slight-of-hand? We spent a week with a loaded EX-L to find out.


The look is a major improvement, appearing far more sophisticated than the 2012 car.
When we initially heard rumors of an "emergency refresh" coming for the 2013 Civic, we honestly didn't expect much – the era of massive year-over-year changes died decades ago, after all. But what arrived at November's Los Angeles Auto Show was a whole lot more comprehensive in scope than what we anticipated.

To begin with, the 2013 Civic's nose features a thoroughly updated look, with a more complex hood stamping, larger mesh grille opening framed by a chrome-edged smile, more expressive headlamps and a reworked lower fascia with a fillet of brightwork that does wonders to help the design look more upscale. In profile, with the exception of fresh wheel patterns, the look stays largely as it was for 2012, with the same aggressively raked greenhouse and fuss-free sheetmetal contours. Out back, a redesigned trunklid houses a better-integrated license plate pocket and a chrome trim strip is bookended by larger and more elaborate two-piece taillamps. Overall, we think the look is a major improvement, appearing far more sophisticated than the 2012 car, which was at best an incremental improvement over the admittedly radical eighth-generation model.


The 2013 update helps bring a welcome composure to the Civic's cabin.
But the 2012 Civic's personal Waterloo wasn't really its exterior – it was inside where the car stumbled. A quick peek at Honda owner forums reveals that existing Civic drivers who came in looking to trade their cars for a 2012 model were disappointed with the noticeable cheapening of cabin materials. That's been rectified for 2013, with more soft-touch plastics, convincing faux stitching on the dashboard and doors, a richer headliner, nicer upholstery and, in general, a more premium aura.

The unique two-tier dashboard strategy remains, and while it looks busy, it's quite easy to get used to. Items like a backup camera, Bluetooth telephony/streaming audio and Pandora integration are welcome standard equipment additions, but the biggest improvement to the cabin isn't something you can put a finger on, because it lies beneath. A canopy of additional sound deadening has been added to the firewall, wheel wells and flooring, and a thicker windshield and front-row side windows further mute the outside world. Hondas have rarely been known for their noise abatement abilities, but the 2013 update helps bring a welcome composure to the Civic's cabin, cutting powertrain noise noticeably under acceleration, and road and wind noise everywhere else.


Honda wisely focused on trying to restore some of the car's spunkiness.
Speaking of the powertrain, it's untouched – no Earth Dreams here. You'll find the same 1.8-liter four-cylinder engine doling out 140 horsepower and 128 pound-feet of torque through either a five-speed manual or the five-speed automatic fitted to our test car. It continues to be a smooth-revving if unremarkable drive partner, more notable for the relative ease with which it hits its EPA fuel economy numbers of 28 city and 39 highway than anything else. Despite picking up a modest amount of weight thanks to its higher feature count and sound insulation (50 to 100 pounds, depending on specification), the Civic's mid-pack 0-60 time of 9.2 seconds is unchanged, yet the quieter accelerative experience is a lot more pleasant.

While Honda didn't spend its engineering resources on redressing the Civic's powertrain, it wisely focused on trying to restore some of the car's spunkiness, thickening the anti-roll bars both front and rear, quickening the steering rack by some seven percent and retuning the bushings, all in the name of better handling. Despite the sun-soaked images of our California photo car, our week with the Civic was spent in the greater Detroit area, snow and all. Thus, properly assessing the full measure of the car's handling envelope wasn't on the table, but the ride did seem less busy and turn-in perhaps a skosh quicker. And while the company's engineers were fiddling around with the car's greasy bits, they also reinforced the front body structure and tweaked the side airbags for better safety.


We have to wonder if this redesign isn't Honda just pulling ahead what was an already-in-the-can refresh.
This panoply of improvements adds just $160 to the Civic's base MSRP. That's both impressive and troubling. Impressive in that so little buys so much – we're not sure a better $160 has been spent on a car – but troubling in that Honda didn't think to do all of this last year. Assuming the company is still making a profit, do Honda's beancounters really think so little of compact buyers that they assume consumers wouldn't have spent an extra $160 to get a much better vehicle?

The reality probably lies somewhere in the middle. It's more likely that the 2013 Civic's profit margins aren't as generous as those of its counterpart from last year (tellingly, the base DX model has been dropped), and besides, Honda would probably rather fortify the model's prospect for long-term competitiveness and improve its critical stature than make a few extra bucks. That sort of recalculation would make sense to us, but we also have to wonder if this redesign isn't the result of Honda just pulling ahead what was basically an already-in-the-can refresh that wasn't scheduled to hit for another couple of model years. If that's the case, does that leave the Civic with bare cupboards a few years from now?

In the end, while there are still better driver's cars to be had in the segment, it's hard not to be impressed with what this litany of little tweaks has done for the Civic, from its more expensive appearance to its suddenly class-competitive refinement and equipment levels. While we still dearly miss the days when Honda reveled in challenging its engineers to openly and freely innovate on even its most basic of models, the Civic is once again in the thick of the small car hunt.


Vital Stats
Engine:

1.8L I4

Power:

140 HP / 128 LB-FT

Transmission:

5-Speed Automatic

0-60 Time:

9.2 Sec

Drivetrain:

Front-Wheel Drive

Curb Weight:

2,866 LBS

Seating:

2+3

Cargo:

12.5 CU FT

MPG:

28 City / 39 HWY

Base Price:

$18,165

As-Tested Price:

$24,555

Research the 2013 Honda Civic »
---
By Chris Paukert
---
See also: Analysts say Honda's growing woes in Europe not just the economy, Honda Civic Wagon Concept to debut at Geneva, Submit your questions for Autoblog Podcast #319 LIVE!.