2013 Dodge Charger SRT8 Super Bee
Tue, 12 Mar 2013 14:58:00 EST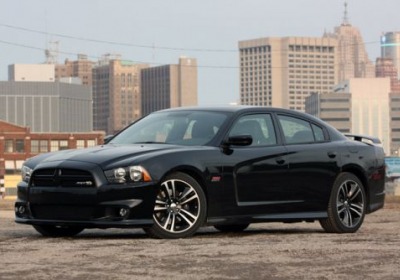 I can pinpoint the exact moment when I fell in love with this car. It was starting down a nearly straight entrance ramp at 15 miles per hour when I buried the throttle. In a moment, I was thrown back into my seat as the big SRT8's engine came to life with commensurate sound, fury and force, bringing me up to 75 mph in what felt like two blinks of an eye. This thing feels so much quicker than its 470 horsepower and 470 pound-feet of torque would lead you to believe. And mashing the right pedal never, ever gets old.

But beyond sheer speed, I found a whole lot to like about the Charger SRT8 during my week with the Pitch Black test car here in Detroit. And while the whole Super Bee kit isn't really my style, it's really easy to overlook those badges for a package that offers so much for so little.

Driving Notes

Like I said, the 392 Hemi engine feels much more powerful than its numbers might suggest. Chrysler estimates that the car will rip off 0-60 times in the high-four-second range, and you'll pass the quarter mile just before the 13-second mark.
And then there's the transmission. Dodge fits a five-speed automatic unit to its 6.4-liter Hemi here in the Charger, and while that's almost an archaic piece of technology by today's standards (and considering that the recently refreshed Jeep Grand Cherokee SRT with the same engine uses an eight-speed auto), it's still well-suited to the big motor. Shifts happen quickly, both up and down the range, and because there are only five ratios, there's less hunting around between cogs.
There are steering wheel-mounted paddle shifters, but the transmission felt best when left to its own devices. Just hit the throttle when you want to go, and you'll go. There's no drama, just speed.
The rub, though, is with fuel economy – at best, you'll manage 23 miles per gallon on the highway, and my average of 16 mpg fell just short of the estimated 17-mpg combined rating. Oh, well.
But this thing is just so damn fun to drive. You can get the rear tires to spin at every stoplight, but in an incredibly manageable and playful fashion. Likewise, it's easy to nudge the rump out around turns, and the thick, leather-wrapped SRT steering wheel is a joy to toss back and forth.
This is a big, heavy car, though, and you won't forget it from behind the wheel. At no point would I describe its handling as nimble or precise, but it's not nearly as tough to wrangle as you might imagine. There are big Brembo brakes to keep all that power in line, and you don't need to turn off the traction nannies to have a good time.
Visually, the Super Bee kit offers unique, double-five-spoke 20-inch wheels, decals on the hood and rear quarter panel, and a small graphic next to the SRT badge in the grille. Inside, unique trim is found on the cloth seats and there's another Super Bee graphic on the dash. It's not what I'd spec, but to each their own. The Charger is still a great-looking car regardless.
That said, this model, as-tested, was $44,435. Of course, that's without premium features like navigation, the awesome leather SRT thrones, HID headlamps, a sunroof, and so on, but it's a nice value. It's basically one of the new SRT Core models, but with some decals.
This car offers a ton of bang for the buck in terms of performance, but it's easy to feel cheated inside, despite the spacious, quiet cabin. The standard 4.3-inch touchscreen display works well and is incredibly responsive, but combined with the large cubby underneath, it really reminds you that you didn't pony up for the big screen Uconnect system. And while the cloth seats are comfortable, they aren't nearly as supportive as the seats of the standard SRT8, and you can't get them with heat, either.
If anything, this SRT8 Super Bee reminded me just how awesome the Charger SRT8 is as a whole. And by offering so much punch underhood, the Super Bee package strikes me as being an excellent bargain for people looking for no-frills high performance.
Vital Stats
Engine:

6.4L V8

Power:

470 HP / 470 LB-FT

Transmission:

5-Speed Auto

0-60 Time:

4.9 Seconds (est.)

Top Speed:

174 MPH

Drivetrain:

Rear-Wheel Drive

Curb Weight:

4,365 LBS

Seating:

2+3

Cargo:

16.3 CU-FT

MPG:

14 City / 23 HWY

Base Price:

$41,995

As-Tested Price:

$44,435
---
By Steven J. Ewing
---
See also: Small number of 2013 Chrysler 200 and Dodge Avenger models recalled, Official USPS Muscle Cars stamps coming to a mailbox near you, 2013 Dodge Durango R/T.