1000-hp Mk1 VW Golf is terrifyingly cool
Tue, 04 Jun 2013 19:58:00 EST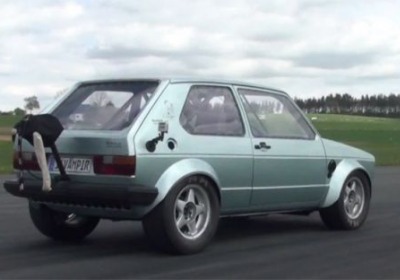 There are plenty of things to love about the Mk1 Volkswgen Golf. The machine's horsepower isn't one of them. From the factory, the little hatch cranked a breathy 112 horsepower from the most robust form of its 1.8-liter four-cylinder engine. Boba motoring, however, has taken that figure and multiplied it by a factor of nearly 10. If 1,000 horsepower sounds terrifying in a machine with a wheelbase of just 94.5 inches, it should. A massive Garrett GTX4202R turbo force-feeds the little mill through a tweaked 16-valve KR head. The crew calls the beast the 16Vampir, and we think that's fitting.

Of course, we'd wager you quit reading right about the time you set your eyes on that headline. Those of you who've stuck around this long can point yourselves below to see the maniacal creation in action. You won't be disappointed.





---
By Zach Bowman
---
See also: VW builds 250,000th Passat in Chattanooga in just two years, 2015 VW Golf R caught getting a flogging on 'Ring, Porsche again staring down another $1.8B in hedge fund lawsuits.