eBay Find of the Day: 1970 Ford Torino King Cobra prototype
Wed, 08 May 2013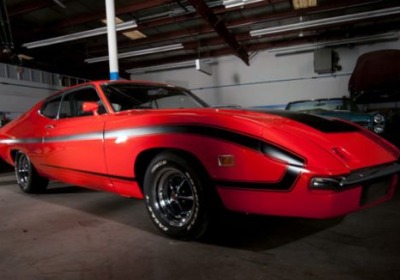 Over the last decade or so, competition in NASCAR has led to some pretty funky looking racecars. And when the sport was still up and coming, the tight competition actually led to some interesting production cars. The Dodge Charger Daytona and Plymouth Superbird are perhaps the most well-known cars of the sport's "aero wars" era but the Ford Torino King Cobra might have been the most memorable of all, if not for some different homologation rules established in 1970. The Torino King Cobra never made it to production and never competed in NASCAR, but three examples exist including this one now for sale on eBay.


Designed as a successor for the aero-tuned Torino Talladega, the Torino King Cobra has a sleeker front end with hidden headlights and a sloped nose. As the story goes, NASCAR made a rule change in 1970 requiring 3,000 of the vehicles to be produced, which was substantially more than the 500 units required by the previous rule. One of the three prototypes ever built – and the only one built with the Boss 429 engine – is now for sale on eBay with a starting bid of $500,000. With a little more than three days left on the auction there are still no bids, but in the grand scheme of things this seems like a relatively fair price for a rare piece of automobile and racing history.
---
By Jeffrey N. Ross
---
See also: Ford rethinking vehicle launch strategy, 'Born of a Blue Sky' brings the Amelia Island Concours to you, 2013 Ford C-Max Hybrid.