Woman trades 1914 Model T in for 2013 Corvette
Wed, 17 Apr 2013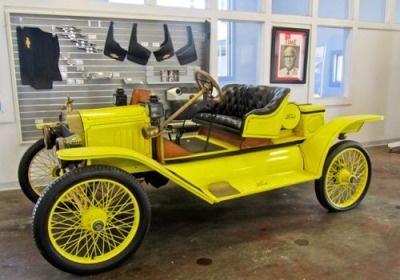 We're sure that dealers must see all sorts of interesting trade ins, but this one may take the cake. Red River Chevrolet in Bossier City, Louisiana, recently had a customer come in with an odd request. Tina Boyter wanted to trade in three vehicles on a brand-new 2013 Chevy Corvette. Among the hardware was 1980 Corvette, a 1978 Cadillac Eldorado and a 1914 Ford Model T. While the '80 Corvette had been her personal car for years, the '78 Eldorado had belonged to Boyter's mother before she traded up to a Lincoln. The big Caddy had just 10,290 miles on the clock when it was traded in.

And the Model T? Boyter says the car was built as a racer by Ford, and that it had been a show winner for years when it belonged to her father. But, after spending the last 16 years in a museum with its fluids drained, Boyter decided it was time to shed some of the past. She walked into the dealer, laid eyes on a white 2LT Corvette with a red interior and offered to trade all three of the vehicles in on the sports car.


Why not wait for the C7? "I fell in love with that one when I walked in the door," She said. We can't fault her there.

As if this story wasn't crazy enough, Red River Chevrolet had previously sold both Ford and Chevy products side-by-side when the dealership first opened in the early 1900s. The building still has hitching points for customer horses. Something tells us that this is a story with happy endings for all those involved.
---
By Zach Bowman
---
See also: Submit your questions for Autoblog Podcast #329 LIVE!, Ford, GM to collaborate on 9- and 10-speed transmissions, Transit Courier completes Ford's new commercial van line, will we get it?.