Watch this Ford F-150 SVT Raptor fly like an eagle [UPDATE]
Mon, 04 Feb 2013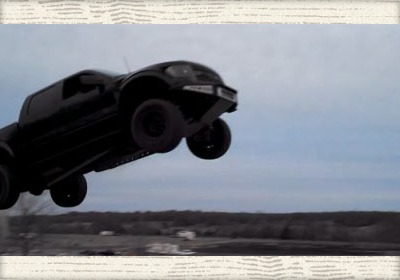 The Ford F-150 SVT Raptor is a very capable truck right out of the box, but "capable" has never translated into "invincible." Just ask the owner of the machine in this video. In it, the driver gets frisky with an aggressive jump with plenty of speed on his hands. The result is enough air to make Vaughn Gittin Jr. blush. As always, it's not the launch that's painful, but the re-entry. Gravity eventually asserts its dominance over the $43,630 pickup in a big way, and when it comes crashing down, it does so with a vengeance.

The impact was hard enough to set off both the alarm and multiple airbags inside the cabin. It's unclear if anyone was injured in the stunt, but we certainly wouldn't be surprised to hear that was the case. You can check out the stunt in the video below, and remember, when in doubt, back out of the throttle. Be warned, there may be some explicit/NSFW language in the clip.

UPDATE: Second video added with an even better look at the jump added below.





---
By Zach Bowman
---
See also: Ford picks Fiesta ST, Transit Connect as this year's SEMA darlings, Toyota, Ford and Honda again top Consumer Reports Car-Brand Perception Survey, Ford only automaker to make 2012 Buzz Rankings, Toyota most improved.