Watch these videos of an NHRA racer's bodywork blowing off into a crowd
Tue, 23 Apr 2013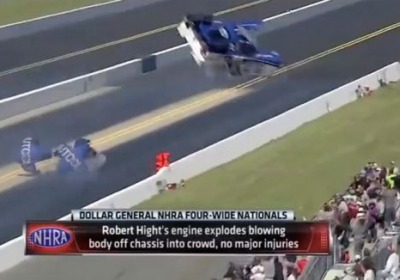 Just a few months ago, fan safety at racetracks was a hot topic following the last-lap NASCAR Nationwide Series crash at Daytona that sent large pieces of racecars into the grandstands injuring 33 fans. Now, a freak incident at a National Hot Rod Association event resulted in a drag racer's bodywork flying into the crowd at the NHRA Four-Wide Nationals in Charlotte over the weekend. The carbon-fiber body of Robert Hight's Ford Mustang funny car blew off toward the end of a run when his engine exploded, but fortunately, the two fans evaluated after the incident were later released without serious injury.

As you can see in the image above, the body flew high into the air before landing on a walkway in front of the grandstands, a bit of happenstance that likely gave most fans enough time and space to move out of the way. Scroll down to watch a couple of videos showing what happened, including one from a fan's perspective that also reveals what appears to be part of the body's metal bracing landing dangerously close to the crowd.






---
By Jeffrey N. Ross
---
See also: Ford Mondeo with 1.5-liter EcoBoost debuts in China, Ford Escort returns... as a concept, Ford Escort Concept goes back to basics.