Watch the incredibly complicated operation of Porsche's new targa roof
Tue, 14 Jan 2014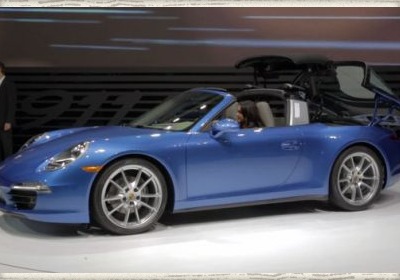 Despite Porsche having claimed the name, targa tops are nothing new. In addition to the semi-roofless version of the 911, plenty of cars in the past have used removable roof panels – the new Corvette Stingray has one (as have prior generations), and this type of open-air experience has been available on past vehicles like the Pontiac Solstice Coupe and Honda Civic del Sol.

But when Porsche took the top off its brand new 911 Targa here at the Detroit Auto Show, it was indeed cause for pause. Simply put, this is one of the most complicated and intricate electronic roof panel removal techniques we've ever seen, save perhaps, for the setup found on the Japanese-market Civic del Sol from the 1990s.

We won't spoil the video for you, but basically, rather than just the roof panel coming off, the entire rear glass area lifts away the body in order for the small section over the passenger compartment to slide back. This has to be incredibly expensive to repair once it inevitably breaks. And we highly doubt you'll be able to operate this mechanism at any speed.


Rather than a play-by-play explanation, we invite you to scroll down to watch the Targa's roof in action. And let us know what you think of Porsche's new setup in Comments.




---
By Steven J. Ewing
---
See also: 2014 Porsche Cayenne Platinum Edition is the ace of base, 2014 Porsche 911 Targa takes its crop-top off in Motor City, Porsche 911 Targa leaks out ahead of Detroit debut.