Watch Schumacher's hot lap of N"urburgring in Mercedes F1 car
Fri, 31 May 2013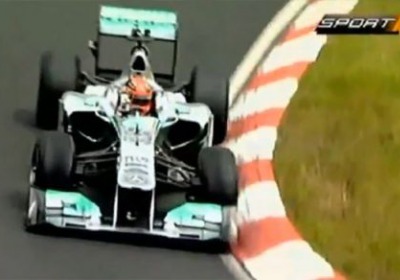 In advance of the Nürburgring 24-hour race last weekend, Mercedes-Benz put on a demonstration that had Michael Schumacher playing catch-up in a Formula One car against four examples of AMG metal. There were four cars sent off in staggered starts before Schumacher: an A45 AMG, E63 AMG 4Matic, SLS AMG Black Series, and an SLS AMG GT3 car. "Mr. Formula One," as the German television commentators call him, left three minutes after the SLS AMG GT3.

There are two videos of Schumacher's lap, the first is on-board footage - and even though there were several GoPros on the car the POV never cuts away from the front wing. You can hear the throttle and tell he's not pushing it, you can also tell how bumpy the track is. The second video is footage from the German Sport1 channel - with commentary in German - that shows all the cars taking off and takes the aerial view of proceedings. He looks to be going a lot faster in that one. You can compare and contrast yourself with the videos below.

Oh, and it's worth noting that, even with the likely restricted car, and the made-for-TV environment, Schumi turned in a quick lap. The nose camera shows the F1 car start to slow down on the back straight, near the start/finish line, right around the modern-length track record time of six minutes and eleven seconds.







---
By Jonathon Ramsey
---
See also: 2014 Mercedes-Benz S-Class revealed again in 1:18 scale, Mercedes-Benz releases US-spec 2014 Sprinter details, 2013 Mercedes-Benz GLK250 Bluetec gets 33 mpg, priced from $38,950*.