Watch 1,208 Porsche 911s collect at Silverstone for world record
Mon, 29 Jul 2013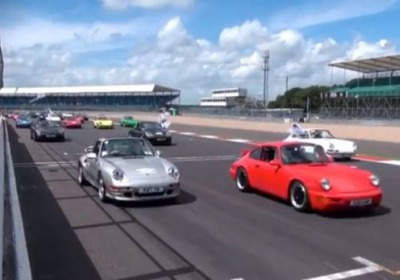 Porsche has been spending the majority of 2013 celebrating the 50th birthday of the 911, with its latest stunt taking the German brand to the home of British motorsports, Silverstone. To celebrate, Porsche invited enthusiasts to take their personal 911s on a lap of the former airfield, and boy, did the Porschephiles show up. 1,208 911s took part in the lap around the Grand Prix circuit, making it the largest-ever gathering of the iconic, rear-engined cars.

This wasn't just a celebration of 50 years for the 911, though. Funds raised were channeled towards Hope For Tomorrow, a cancer charity that works with the United Kingdom's National Health Service in operating mobile chemothereapy units that make life just a little bit easier on cancer patients.


Take a look at the long video below, and enjoy the passing of what are likely examples of every 911 model ever built.



---
By Brandon Turkus
---
See also: Watch Larry Kosilla resurrect the finish of this barn-find 1966 Porsche 912, Updated J.D. Power APEAL study shines on VW Group, Chevy, 2013 Porsche 911 Carrera 4S.