Volkswagen lays off 500 Chattanooga workers
Fri, 19 Apr 2013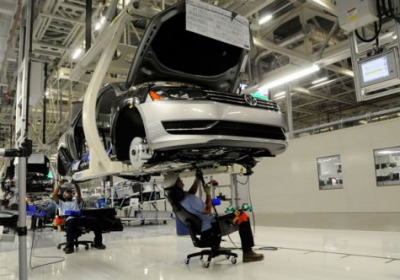 The redesigned Volkswagen Passat has been a decent seller since its debut in 2011, but sales have apparently dropped off enough that the automaker is trimming some of the employees from its Chattanooga, TN assembly plant. According to Automotive News, Volkswagen will be cutting shifts and laying off 500 contracted workers in response to slowing sales.

Currently, the plant has three teams running 10-hour shifts Monday through Saturday, but starting May 13, this will be reduced down to two teams running 10-hour shifts Monday through Thursday. This will be done to reduce dealer inventory (the article says that VW dealers, on average, have a 97-day supply of Passats) and production capacity (currently running at an annual pace of 170,000 units, which is more than the 150,000 annual units the plant was planned to produce).

This, of course, isn't saying that the Passat has been a failure since VW added 200 full-time employees to the plant in February 2012 to keep up with increased demand. The AN article says that automakers frequently overstaff plants during the launch of a new product – or in this case, a new product and a new plant – but eventually reduce the workers as things run smoother and more efficiently.
---
By Jeffrey N. Ross
---
See also: Volkswagen iBeetle gets integrated iPhone dock, little else, Volkswagen CrossBlue Coupe is a green fun-machine we want to drive, GM outsold VW globaly in first quarter, Toyota reports numbers next week.