VW Beetle R is one mean bug
Wed, 02 Oct 2013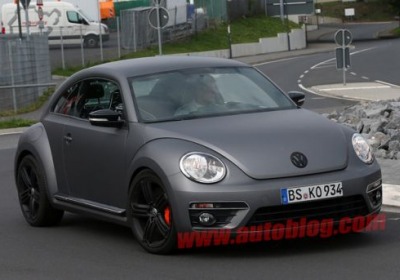 Volkswagen's R lineup currently consists of the Golf R in North America, and the too-cool-for-school Scirocco R in Europe. It hasn't exactly been a secret as to which VW would next get the R treatment; the German manufacturer reportedly confirmed that a hotter Beetle would be coming to the US. That announcement, in August 2011, was followed up by a production-ready Beetle R Concept at the 2011 Frankfurt Motor Show.

After some wait, we're finally seeing spy shots of the Beetle R in Germany. The mule shown in the images here is wearing the R-Line bodykit, which adds sportier front and rear fascias, side skirts, dual exhausts and a not-so-subtle spoiler. Topped off with Volkswagen's traditional, five-spoke R wheels, we'd be just fine with the Beetle R coming to market as is.

Our spy photographer, though, seems to think that the production R will get even sportier sheetmetal, which we take to mean the more assertive look shown on the Frankfurt show car. Larger intakes on the front fascia, a bigger rear spoiler and vertical vents on the rear bumper could all be upcoming. Whether a production model will include the concept's polished wheels (R cars haven't traditionally embraced that look), vented hood and the quad-tipped exhausts remains to be seen.

Sporty brakes with bright, red calipers give the matte gray Beetle some visual flair, while our spy photographers claim the 2.0-liter mill under the mule's curved hood will generate the same 296 horsepower that's coming with the next Golf R. Our spies report a deep exhaust note from this uprated engine, too.

Expect the Volkswagen Beetle R to hit dealers near the end of 2014. As for a debut, it will likely be no earlier than Geneva and no later than Paris.
---
By Brandon Turkus
---
See also: VW readying new VR6 with forced induction, UAW tactics called into question at VW's TN plant, Touring the Volkswagen Museum in Wolfsburg.