US-spec 2015 Volkswagen Golf and GTI to finally debut in New York
Tue, 12 Mar 2013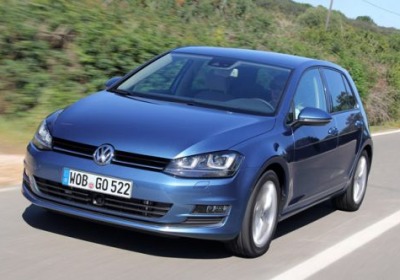 The seventh-generation Volkswagen Golf is hardly new to us. In fact, we've already driven it. And elsewhere in the world, the new Golf is already winning awards. Even so, we still have yet to see the US-spec version of the car, though that won't be the case much longer. As part of the New York Auto Show festivities later this month, Volkswagen will finally show off the 2015 Golf models destined for our shores.

Three different versions of the Golf will debut under the lights of New York City's Javits Center: the turbocharged TSI, oil-sipping TDI and hotter GTI. The first model in that list uses Volkswagen's new 1.8-liter turbocharged inline four-cylinder engine, replacing the outgoing 2.5-liter naturally aspirated inline five-cylinder. The latter two models use familiar engines: the 2.0-liter TDI diesel and 2.0-liter turbocharged four-cylinder, respectively.

Even though the new Golf officially debuts later this month, it won't go on sale in the US until the first quarter of 2014. We'll be waiting patiently.

2015 Volkswagen Golf to Make its US Debut in New York

NYIAS Press Days: March 27 & 28


Three Golf versions will debut in New York

The 2015 Volkswagen Golf is bigger inside and out, lighter, more fuel efficient, and safer than the vehicle it replaces.

The seventh-generation Golf is the first Volkswagen to use the new MQB components matrix and will offer new safety features-such as collision avoidance and lane departure systems-as well as new engines and infotainment options.

At the New York International Auto Show, Volkswagen is debuting all three of the Golf versions that will go on sale next year: the entry-level TSI model; the thrifty TDI Clean Diesel; and the sporty GTI. The TSI and GTI use new versions of the EA888 turbocharged and direct-injected four-cylinder engine, while the TDI gets the new EA288 diesel engine.

The 2015 Golf will go on sale in the first half of 2014 and will be built at Volkswagen's Puebla, Mexico, factory.
---
By Steven J. Ewing
---
See also: Witness this insane 736-hp VW Golf immolate its front tires, 2014 Volkswagen XL1 [w/video], Editors' Choice: Top Five 2013 Geneva Motor Show Debuts.