Trans Am Depot teases 2014 GTO
Mon, 24 Jun 2013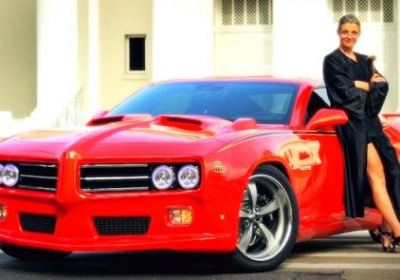 Here comes the Judge. Court is in session. The verdict is in. How many more tired clichés can we come up with? It hardly seems to matter, because it's happening: Trans Am Depot has announced via the teaser video below that it is launching a 2014 GTO, complete with Carousel Red (bright orange, really) paint and full Judge badging.

The car is based on Trans Am Depot's 6T9 Goat, which, in case you don't get the reverential references, is meant to mimic the look of the 1969 Pontiac GTO. As with the company's other cars –including the 2013 Hurst Edition Trans Am we recently drove – the GTO will be based on the current Chevy Camaro, which means two doors, V8 engines and rear-wheel drive, just like the muscle cars of days past.


As for actual details of what's under the 2014 GTO's hood, we're completely left hanging. We'd expect some sort of power adder (turbo, supercharger or possibly some other form of a highly massaged version of the Camaro's V8), and we certainly know that GM has any number of hi-po crate engines to choose from.

We're looking forward to seeing the finished product up close and personal, though we think our money would more likely be spent on a nice original '69 GTO if we had the choice. In any case, scroll down to watch the video and make the call for yourself.



---
By Jeremy Korzeniewski
---
See also: NHTSA investigating 550k Pontiac G6 models, 320k Honda Odysseys, Watch this garbage truck consume a Pontiac Grand Am, 2013 Hurst Edition Trans Am.