Toyota recalling 342k Tacomas due to faulty seatbelt pretensioners
Wed, 07 Aug 2013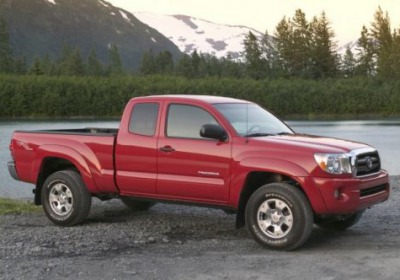 Toyota is voluntarily recalling 342,000 Tacoma Access Cab pickups, produced between 2004 and 2011. The wide-ranging recall is due to faults in the screws that attach the belt pre-tensioner to the belt retractor. There are concerns that the screws can loosen themselves over time, especially if the access door is opened and closed with too much force. It's important to note that the recall only covers the driver and front passenger seat, and is limited to just the Access Cab trucks. Other body styles aren't affected.

If the screws come loose, the pre-tensioner and retractor spring could separate from the belt entirely, which would be bad news in a crash. There's no mention of injuries or accidents due to the faulty pre-tensioners. Owners affected by the recall will be notified soon, and asked to come in for recall service.


Toyota Announces Voluntary Recall of Certain Tacoma Vehicles


TORRANCE, CA August 7, 2013 – Toyota Motor Sales, USA, Inc. today announced that it will conduct a voluntary safety recall involving approximately 342,000 Toyota Tacoma Access Cab vehicles, produced from 2004 to 2011.

In the involved vehicles, screws that attach the seat belt pre-tensioner to the seat belt retractor within the seat belt assembly for the driver and front passenger can become loose over time due to repeatedly and forcefully closing the access door. If the screws loosen completely, the seat belt pre-tensioner and the retractor spring cover could detach from the seat belt retractor, which can affect retractor and pre-tensioner performance.

Owners of vehicles subject to this recall will receive a notification by first class mail.
Detailed information is available to customers at www.toyota.com/recall and at the Toyota Customer Experience Center at 1-800-331-4331.
---
By Brandon Turkus
---
See also: Toyota Tacoma X-Runner dead, Toyota Matrix discontinued for 2014, eBay Find of the Day: Back To The Future Marty McFly 1985 Toyota SR5 pickup tribute.