Toyota passes BMW as most valuable car brand
Tue, 21 May 2013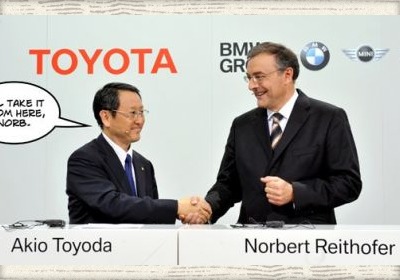 An annual market study of the strongest brands across various industries has seen Toyota leapfrog BMW as the world's most valuable automotive brand. Toyota's 2013 brand value rose to $24.5 billion, up 12 percent versus 2012 numbers according to market research company Millward Brown's BrandZ Top 100 Most Valuable Global Brands list. BMW's value fell slightly; down by 2 percent to a total of $24 billion.


Mercedes-Benz finished in third place in the automotive category, up 11 percent from 2012 for a valuation of $18 billion. Honda ($12.4 billion, down 2 percent) and Nissan ($10.2 billion, up 3 percent) rounded out the top five for the category. Volkswagen was the only other auto brand that finished in the top 100 overall, in 100th place. Audi made the greatest percentage gain over 2012, up 18 percent to $5.5 billion, but finished outside of the top 100.

Technology companies dominated the overall list, with Apple, Google and IBM ranking one through three. Couture brand Prada was 2013's biggest gainer, rising by 63 percent over 2012.
---
By Seyth Miersma
---
See also: 2014 Toyota Corolla shows just enough to keep us interested, Expedition drives from Russia to Canada over North Pole..., BMW-Toyota sports car heading towards Tokyo debut.