Toyota fills in details about its future design direction and global platform
Fri, 25 Oct 2013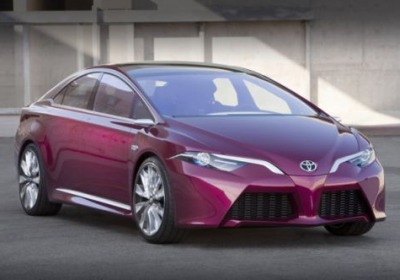 "In the future, out of 100 customers, we want to excite ten of them instead of not offending all 100."
Almost all of the details about the Toyota New Group Architecture (TNGA) strategy have come out since the initiative was first reported on in March of this year, but Autoblog did learn a few new things about it on a recent trip to Japan. Probably the second-most important detail is that each new segment platform will be based around a common hip point to create an "optimal driving position architecture."

Previously, each car was conceived on its own, so Toyota couldn't extract savings from cars that were close in size. The Etios, sold in Latin America and India, is not much smaller than the Corolla, but the two compacts had two different lead engineers, so they have different hip points and require different manufacturing processes and different kinds of commodity parts like seat belt equipment.

A common hip point and driving position, as well as other moves like the an R&D reorganization and the switch to parts engineered for global approval and pooled buying, will allow Toyota to harmonize parts like airbags, pedal boxes and seat belts to save money. The company expects to save 15 to 20 percent on manufacturing using TNGA, and 20 to 30 percent overall once development is included. Toyota also says it will use the efficiencies gained and money saved to make those commodity parts better, and they will have longer life cycles; while the lifespan of a Corolla won't change, a pedal box might carry over from one generation into a brand new generation. Three new front-wheel-drive cars are expected to ride on the platform in 2015, the Prius being one of them, and its advance estimate of 55 miles per gallon is said to be aided by the TNGA.

Another important objective of the streamlined development programs and common parts is allowing the designers to actually, you know, design a car instead of wrapping a platform in meek metal. Said company CEO Akio Toyoda earlier this year, "Instead of developing what customers would want next, we were making cars that would rake in sales" – cars that were just as popular as they were boring.

That brings us to what we think might be the most important advance provided by the TNGA, revealed in a presentation by company design chief Tokuo Fukuichi: "Before, we made cars so as not to be disliked by anyone. In the future, out of 100 customers, we want to excite ten of them instead of not offending all 100."




One shared feature we can look forward to is lower centers of gravity for vehicles.
Ultimately Toyota wants TNGA to enable parts sharing of between 70 to 80 percent throughout its line-up. Yes, that sounds like a lot of common components, but it's not like Toyota's core buyers will be at all concerned since we're talking about under-the-skin parts – many visible parts are already shared. One shared feature we can look forward to is lower centers of gravity for vehicles on the TNGA platform, aimed at providing better ride and handling, including an unnamed vehicle that we're told will have a class-leading CoG.

Fukuichi sketched the large arcs of where Toyota, Lexus and Scion designs are headed. The first slide in his presentation read, "Emotional design – design will change the current Toyota trend." And each of the slides we heard had a small footer that read, "Rewarded with a smile." So keeping in mind that the company can't give away its future product and intentions, here are the main points:

Overall, the three goals are to strengthen overall design identity, refine each brand's front-end identity and tailor it to specific markets, and hone each brand's design philosophy.




The NS4 concept is the vehicle regularly used as a demonstration of what to expect moving forward.
For Toyota, this means becoming more product-oriented instead of being entirely market-oriented. On the graph above, you can see how the parent company makes the biggest design move, forsaking the vertical bar of market orientation for the oval that spans market and product considerations. Fukuichi said Toyota has been like a department store, stocking the aisles with plenty of bland but serviceable goods, but wants to become a "select shop." We're not exactly sure what a "select shop" is, but we're going to guess the intention is to go from something like Target or Sears to Macy's or Nordstrom.



Toyota

Since 2002 Toyota's design philosophy has been "Vibrant Clarity," which breaks down into "Surprising flair," "Simple ingenuity" and "Bold challenge." That might work as marketing speak, but even Toyota admits that its cohesive family look has, until recently, been boring. In the past couple of years it has been refining its "Keen-look" front ends with the stronger T-motif up top, the trapezoidal grille below with a "floating bar" at the bottom, and giving the whole package more depth and dimension. On a seven-step walk from "Conservative" to "Irrelevant," Toyota says in the future it plans on settling right in the middle at "Unexpected." The NS4 concept is the vehicle regularly used as a demonstration of what to expect moving forward.




The TNGA will also allow more investment in regional design languages. Toyota has 15-percent market share in the United States, five percent in China and four percent in Europe, so it wants to strengthen the family look to make its cars memorable. In Japan, on the other hand, Toyota has 50-percent market share, so it wants to differentiate its cars because of their ubiquity.

Fukuichi's line about exciting ten people instead of trying not to disappoint 100 means being bolder outside and developing "packaging innovations" inside. Again, all we have to go on for now is the NS4 concept. We'll find out how far the company is really prepared to go in 2015 when the first new cars on the TNGA are unveiled.


Lexus



Back to that chart above, Lexus will become the "boutique shop" that moves heavily toward product orientation and will be designed to "exceed customer expectations." It will stick with the L-Finesse language first demonstrated on the 2006 GS and still going after a near-death experience in 2008. If you must know, that breaks down into "Seamless anticipation," "Incisive Simplicity" and "Intriguing elegance." Thankfully, we don't need to attempt to translate what that means today because we have the cars to do it for us. The GS brought us the Spindle Grille, which will continue to be refined, and we'll have the coming RC coupe and production version of the LF-NX concept to show us where things are headed.


Scion



Scion has the most interesting placement of all on that graph above, just a circle plopped above the product orientation axis without a single ovoid gesture toward the market. It will take the place of Toyota's "concept shop," which might mean we'll get more futuristic, in-house variations like the philosophy that guided the FR-S, the only truly interesting car that Scion has. The brand got barely a mention in the presentation, though; all we were told was that it will be aimed at "young users" by having "unique, edgy designs," which, if we recall correctly, means Scion intends to return to what it was when it was introduced.
---
By Jonathon Ramsey
---
See also: 2014 Infiniti Q50, Lexus IS 250 fail to achieve Consumer Reports 'Recommended' rating, 2013 Toyota Avalon Hybrid, Scion to offer redesigned xB for 2015, FR-S sedan in 2016?.