Toyota announces Geneva plans including droptop FT-86 Open concept
Fri, 01 Feb 2013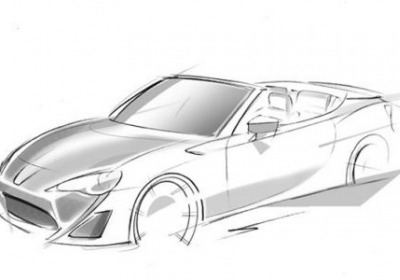 Automakers from around the globe are gearing up for the Geneva Motor Show next month, and Toyota is giving us a couple teasers of what will be in its display. In addition to what appears to be a single-seat concept called the i-Road (shown at right), Toyota will also give us our first look at a droptop Scion FR-S courtesy of the FT-86 Open Concept.

All we have to go on right now is this sketch shown above, but we do see that this car will retain its rear seats, which could be a potential advantage over one of its key rivals, the Mazda MX-5 Miata. Toyota says that this concept will be used to gauge public interest in such a convertible, but we've already heard that a Scion convertible is already planned to go on sale as soon as early next year. As far as Toyota's other concept, there also isn't much information about the i-Road except that it will be a zero-emissions vehicle and it will have seating for two passengers, which based on the drawing will have the driver sitting in front of the passenger.

Toyota will also show off the European version of the new RAV4 as well as its new Auris Touring Sports, which it refers to as a "medium-size estate." Scroll down for Toyota's tease of a press release.

TOYOTA AT THE 2013 GENEVA MOTOR SHOW

World premiere of FT-86 Open concept
World premiere of Toyota i-Road concept
First appearance of production-ready Auris Touring Sports
First European motor show appearance of the new RAV4

Toyota will take the wraps off two contrasting new concepts at the Geneva motor show and also pave the way for two new model introductions that will strengthen its European model range in the coming months.

The FT-86 Open and Toyota i-Road concepts will be sharing the spotlight with the new, British-built Auris Touring Sports and the fourth-generation RAV4 compact SUV.

FT-86 Open concept
The Toyota FT-86 Open concept previews a possible future development of the award-winning GT86 sports coupe. The show car will help Toyota gauge public reaction to the idea, at the same time as it carries out engineering tests on a prototype.

Toyota i-Road
The Toyota i-Road has been conceived as a compact, fun and emissions-free personal mobility concept, designed to offer quick and efficient urban transport for two people.


Auris Touring Sports
Toyota will unveil the production-ready Auris Touring Sports at Geneva, having previewed the estate version of its Auris model at the Paris motor show last year. It will publish full specifications, dimensions and performance data for the new, British-built model, which will go on sale later this year.

Toyota intends Auris Touring Sports to become a new reference point in the market for medium-size estate cars, supported by its strong, contemporary styling, excellent luggage capacity and unique-in-segment full hybrid powertrain option.

The model's debut will be supported by the presentation of a special design study, the Auris Touring Sports Black.

RAV4
The fourth generation RAV4 will be appearing at a European motor show for the first time, coinciding with its market launch in Europe. The new model builds on its pioneering heritage, putting a greater emphasis on the qualities demanded by the modern families that are at the heart of its target market, without sacrificing its core values.

The new model offers distinctive styling, a high quality interior, greater efficiency and improvements to its all-wheel drive system that help deliver a more engaging drive.

RAV4's debut will be supported by two special design studies, the RAV4 Premium and RAV4 Adventure.

Press conference
Toyota will host a press conference on Stand 4.111 at 1pm on Tuesday, 5 March.
---
By Jeffrey N. Ross
---
See also: YouTube's Super Bowl commercial buzz list dominated by automakers [w/videos], Toyota announces two recalls affecting 1M Corolla, Matrix and Lexus IS models, Ford only automaker to make 2012 Buzz Rankings, Toyota most improved.