Toyota Prius line may not reach 2013 sales target
Mon, 22 Apr 2013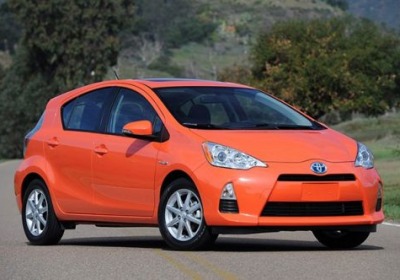 2012 was a good year for the Toyota Prius line, the hybrid that started it all moving 236,659 units, being the best-selling model in California for the year and the Prius C (pictured) being deemed the most reliable car of 2012 by Consumer Reports. Then 2013 happened, and gas prices dropped more than expected, and people haven't been buying the little hybrids like they used to.

A report in Bloomberg says Toyota set 250,000 units as the Prius family's sales target for this year, but hits like the double-digit drop in year-on-year performance in February have helped lower 2013 sales by 8.4 percent compared to 2012, making the objective "a challenge" to reach. The declines in Prius sales come even as hybrid sales overall were up in the first couple of months this year, including sales of other Toyota and Lexus hybrids. Jim Lentz, Toyota's North American chief, said the Prius target would be adjusted if necessary.
---
By Jonathon Ramsey
---
See also: GM outsold VW globaly in first quarter, Toyota reports numbers next week, Toyota offered $146.5 million to build Lexus ES in Kentucky, Toyota responds to video of Highlander ramming house [w/video].