Toyota CamRally is vanilla spiced
Tue, 05 Nov 2013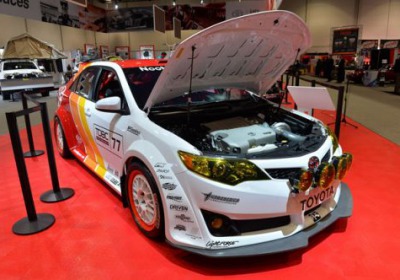 We weren't quite sure it was possible, but NASCAR driver Parker Kligerman and the other folks behind this Toyota Dream Build Challenge vehicle (check out the other cars in the challenge) have made the Camry, a versatile but vanilla family sedan, into a performance car to be reckoned with. And by stripping it (literally) of its versatility and injecting some spice into it, this rally-spec Camry does indeed appeal to the enthusiast crowd.

The appeal starts with the CamRally's vintage Toyota racing colors of red, orange and yellow painted on a widened body. Those wide fender flares and rocker panels, paired with the revised front and rear fascias (and massive rear spoiler), lend the car an aggressive look without being tacky, and enhance the aerodynamics. But peel back the skin and you'll find plenty of performance upgrades to back up the looks.


While Toyota doesn't say how much horsepower it makes, the CamRally's V6 is turbocharged, and we assume the car's brake upgrade is indicative of the engine's increased output. The stripped interior only contains what's needed for rally racing, including bucket seats, a motorsport steering wheel covered in Alcantara, a carbon-fiber dashboard and a roll cage.

At 10:00 AM PST, the winner of the Toyota Dream Build Challenge was announced, and while the CamRally didn't take top honor (the Let's Go Moto Tundra received the most votes), it's still a winner in our book.

Head on over to the photo gallery to see the coolest Camry around.
---
By Damon Lowney
---
See also: Toyota bids farewell to FJ Cruiser with Ultimate Edition at SEMA, Toyota reveals Tokyo Motor Show concepts, Honda Civic overtakes Toyota Corolla as America's best-selling compact.