The 2014 Porsche Cayenne Turbo S brings 50 extra ponies to Detroit
Mon, 14 Jan 2013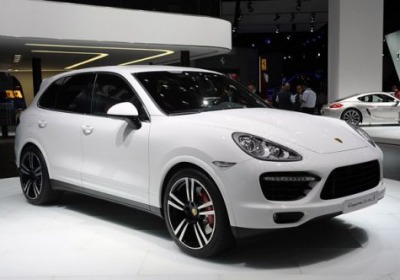 Porsche has announced a new version of its popular SUV today at the Detroit Auto Show: the 550-horsepower 2014 Cayenne Turbo S.

This newly minted "flagship" of the Cayenne lineup is powered by a twin-turbocharged 4.8-liter V8 engine, and offers 50 hp more than the Cayenne Turbo. Performance figures are impressive for the sleek utility vehicle: 0-60 miles per hour can be dashed off in 4.3 seconds, while maximum speed is rated at 175 mph. The Turbo S also gets dynamic chassis control, torque vectoring and Porsche's Sport Chrono package – all standard equipment.

Visually the Cayenne Turbo S differentiates itself from the lesser models in pretty subtle ways. Gloss black trim decorates the gawping front air intakes, as well as rear-view mirror trim panel. The SUV also wears 21-inch Turbo II wheels, a la the 911 Turbo.

Expect the 2014 Cayenne Turbo S to appear in Porsche showrooms in the spring of 2013 with a starting price of $146,975 (including destination).

Porsche at the 2013 North American International Auto Show

Detroit. Porsche is celebrating a new flagship for the Cayenne SUV family at the North American International Auto Show with the world premiere of the 550 hp Cayenne Turbo S.

The 4.8-liter twin-turbocharged Cayenne Turbo S benefits from an additional 50 hp compared to the Cayenne Turbo. The Cayenne Turbo S accelerates zero to 60 in 4.3 seconds on its way to a top track speed of 175 mph. Equipped for maximum dynamic performance, the car is equipped with Porsche Dynamic Chassis Control (PDCC), Porsche Torque Vectoring Plus (PTV Plus) and the Sport Chrono package as standard.

The exterior of the Cayenne Turbo S is distinguished by front air intakes and rear-view mirror trim painted in high-gloss black. Standard 21-inch 911 Turbo II wheels with colored Porsche badges and high-gloss black accents are also exclusive to the Cayenne Turbo S, along with dual twin-tube sport tailpipes. The model is scheduled to arrive in dealerships in spring 2013 at a starting price of $146,000, not including a $975 destination charge.

Also making an appearance at the North American International Auto Show is third-generation Porsche Cayman, which was unveiled at the Los Angeles International Auto Show in November.

Re-engineered from the ground up, the new Cayman is lower, lighter, faster and more efficient and powerful than ever before. A longer wheelbase, wider track and larger wheels enhance the driving performance of the mid-engine sports car.

The 2014 Cayman is powered by a 2.7-liter engine with 275 hp, while the Cayman S produces 325 hp with a 3.4-liter engine. Both models will arrive in dealerships in spring 2013 at a base price of $52,600 for the Cayman and $63,800 for the Cayman S.

The U.S. continues to be Porsche's largest market, with 35,043 cars sold here in 2012, representing an increase of 21 percent compared to 2011. The Cayenne and 911 models contributed to the strong sales performance, increasing by 20 percent and 42 percent, respectively.

Porsche AG sold more sports cars globally in 2012 than ever before: 141,075 customer deliveries equal an increase of 18.7% compared to last year's record of 118,868 vehicles sold.
---
By Seyth Miersma
---
See also: Porsche Museum highlights history of the 911 RSR, Porsche offers design walkthrough of Panamera Sport Turismo, Another cool projection vid, this time with a Porsche 911.