Tarantino's stolen Chevy Malibu from Pulp Fiction recovered after 19 years [w/video]
Mon, 29 Apr 2013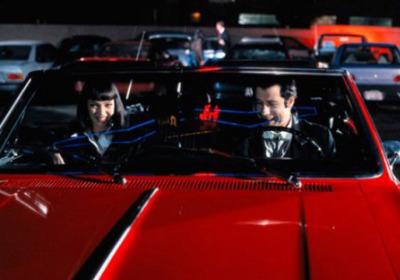 Quentin Tarantino fans will likely remember Vincent Vega's cherry 1964 Chevrolet Malibu Convertible in Pulp Fiction. In a movie drenched in automotive references, the Malibu is very nearly a character in and of itself, and it serves as the subject of Vega's soliloquy about the kind of man who vandalizes another's automobile. It also happened to be Tarantino's personal car when the film was shot, and was apparently stolen shortly after production wrapped. Now police have located the car some 19 years later.

As it turns out, the thieves cloned the vehicle identification number from another '64 Malibu and had the car registered under the new digits. It was then sold to an unsuspecting buyer. Police happened upon the duplicate VINs while investigating another potential theft. Right now, it's unclear whether Tarantino has taken possession of the Chevrolet, if it has remained in the possession of the fraud victim, or whether it's caught somewhere in the gears of justice. Either way, you can catch Vega's memorable thoughts on the car keying in the Pulp Fiction clip below. But consider yourself warned: the video contains explicit language as Not Safe For Work as it comes.





---
By Zach Bowman
---
See also: 2014 Chevrolet Corvette Stingray priced from $51,995*, 2015 Chevrolet Cruze spied on its home turf, 2014 Chevy Corvette Stingray order guide hits the web.