Spitballs flying between Nissan and Fiat
Thu, 06 Dec 2012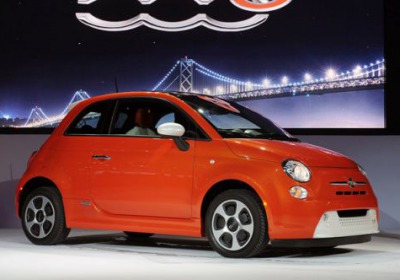 At the 2012 LA Auto Show, Fiat brand chief and recently crowned marketing genius, Olivier François, attempted to distance the Fiat 500e from other electric vehicles, asking rhetorically, "Isn't ugliness the worst kind of pollution?" Nissan has apparently taken issue with these comments, feeling slighted for what it considers digs at the Leaf's styling. In a recent interview with Automotive News, Nissan's marketing chief Simon Sproule shot back, "Let's face it, Fiat has not shied away from controversial styling themselves," he continued, "many would describe many of their products as visual pollution." Ouch.

Sproule says that while the 500e is a "me-too" product, made only to appease US emissions regulations, the Leaf is a serious effort at producing an EV. The Nissan marketing boss points out that the Japanese automaker has invested billions in EV development and production facilities, while Fiat will lose $10,000 on every 500e sold.


However sales of the Leaf in the US are down five percent. Nissan sold just 8,330 Leaf's so far this year, but Sproule contends that it has less to do with styling, and more with the charging infrastructure. Sproule also thinks that Nissan hit a balance between styling and practicality with the Leaf: "It's still very recognizable as a five-seat hatchback, fully functioning, absolutely competitive with the packaging of the Golf of any other mainstream vehicle." For a segment where efficiency is king, isn't that what matters most?
---
By George Kennedy
---
See also: 2013 Fiat 500e looks loud, runs quietly, 2014 Fiat 500L Trekking takes the hatchback into the big leagues, 2013 Fiat 500c Abarth takes its top off with a quickness.