Seinfeld takes Seth Meyers out in the perfect Porsche
Sat, 13 Jul 2013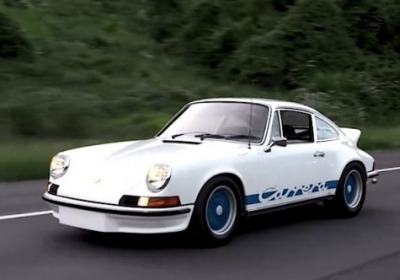 The latest episode of Comedians In Cars Getting Coffee features Seth Meyers of Saturday Night Live fame riding shotgun in what is a very special Porsche from host Jerry Seinfeld's collection: a 1973 911 Carrera RS 2.7. Seinfeld chose the "no-nonsense" sports car because he thought it fit his guest's personality (Meyers thinks motorcycles "are like the cigarette of transportation"), but we enjoy the chance to see one of these rare, über-valuable Porsches being driven on city streets – and in the rain, no less! What we don't like seeing is the Carrera RS being parallel parked behind a pick-up truck, though, fortunately, it seems that Seinfeld was able to avoid any front-end damage to the comparatively fragile Porsche.

Once at the coffee shop, the two comedians have a candid conversation about Meyers' time with SNL, from his early days on the show when he didn't think he was good enough to be a cast member to some of the high points in his career, such as SNL's "Really!?" segment that he performed in and how he became a writer for the show.

After coffee, when they're back in the car and Seinfeld opens up the throttle of the lightweight RS 2.7, he manages to eke out a big grin from Meyers – or maybe it was a grimace at the thought of driving in the rain on old tires. Whatever the case, be sure to watch the video below (and stay tuned until the end for a surprise).



From Crackle: Really?!
---
By Damon Lowney
---
See also: 2013 Goodwood Festival of Speed statue unveiled, 2014 Porsche Panamera S E-Hybrid, Porsche 911 GT2 caught testing, is super bad.