Roush getting back into sport compact business with Focus ST mods [w/video]
Wed, 29 May 2013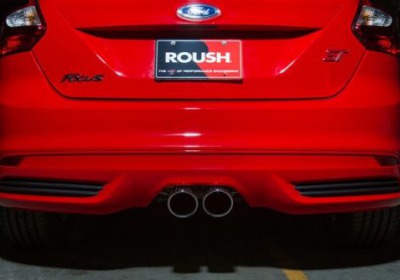 Roush Performance offers a whole raft of parts for folks looking to tune their Ford Mustang and F-150 models, and now Focus owners can start getting in on the hotted-up action, too. Owners of the 2012-13 Focus and 2013 Focus ST can now get a Roush cold-air intake system, and ST owners can also opt for a high-performance cat-back exhaust.

Although all of these components are now available for order, the parts will ship sometime in July; no word yet on pricing. Down the road, Roush will also offer styling upgrades for the Focus as well as performance tuning upgrades such as engine controller, suspension, wheels and tires. Scroll down for a quick video of what the Focus ST exhaust sounds like, as well as a Roush press release.





ROUSH Performance Sets FOCUS On The Sport Compact Market

(Plymouth, MI) May 23rd, 2013 – ROUSH Performance is excited to announce its re-entry into the small car market with some exiting new products for the 2012 and newer Ford Focus and Focus ST models. Due to an overwhelming demand for ROUSH components for the small car segment, our engineer team started with what they know best – powertrain. Our introductory products will focus on cold air intakes and exhausts for the 2012 and newer Ford Focus, including the new 2013 EcoBoost Focus ST model.


2013 Focus ST
-421609 ROUSH Focus ST Cold Air Intake Kit
-421610 ROUSH Focus ST Cat-Back High Performance Exhaust System

2012-2013 Focus
-421642 ROUSH Focus (Non-ST) Cold Air Intake Kit

ROUSH Performance is also currently developing additional products for the Focus including PCM
calibration upgrades, suspension components, wheel and tire packages as well as interior and
exterior accessories. "We are very excited about expanding into this market segment." States Tim Wheeler, VP of Sales and Marketing at ROUSH Performance. "We are dedicated to developing quality parts to support a variety of the performance minded automotive lifestyles and with the rapidly growing sport compact segment, the Ford Focus is a natural fit for ROUSH Performance."

All of the ROUSH Performance Ford Focus parts listed above are available for immediate PRE-SALE with orders expected to ship in early-mid July. Orders can be placed through our sales department at 800-59-ROUSH option #2 or via email at: rppsales@roush.com.

Based in Plymouth, Mich., "The Art of Performance Engineering" takes place at ROUSH Performance. To get a look behind the scenes at what goes on at ROUSH and how the vehicles are designed, manufactured and produced logon to http://www.youtube.com/roushperformance/. For more information see your local ROUSH® dealer, visit www.ROUSHperformance.com or telephone toll-free (800) 59-ROUSH. Follow us on Twitter at https://www.twitter.com/_roush_ or on Facebook at www.Facebook.com/ROUSHperformance.
---
By Jeffrey N. Ross
---
See also: Ford F-150 EcoBoost in NHTSA probe for acceleration issue, Ford Mustang Shelby GT500 has a bit of a dyno issue, Daimler consulting with Ford about 3-cylinder engines.