Ron Burgundy returns for four more Dodge Durango ads
Mon, 04 Nov 2013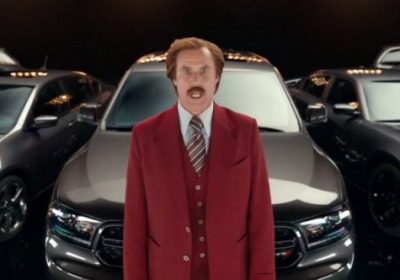 Dodge has released several more of its Anchorman 2-themed commercials, starring Will Ferrell as inept newsreader Ron Burgundy. The four spots, one of which is a sequel to a previous commercial, follow roughly the same pattern as previous ads, with Ferrell's Burgundy misunderstanding or generally making a fool of himself. For some of the ads, though, Burgundy is selling more than just Durangos – the red-suited host of San Diego's most watched news broadcast shilling the entire Dodge lineup.

We've included all four ads down below, and you can also hope over to our original posts to see some of the older commercials. Oh, and if you're getting tired of these - we aren't, aside from the Do-dge spot - just remember that Ferrell reportedly filmed around 70 ads for Dodge.










---
By Brandon Turkus
---
See also: Dodge shows can-do attitude with grand Can'avan sculpture, Detroit's new fleet of donated police cars have safety issues [w/video], Dodge Challenger spied exercising supercharged Hellcat Hemi V8.