Ron Burgundy calls Durango a 'terrible car,' yet his ads help sales climb by 59% [w/videos]
Fri, 22 Nov 2013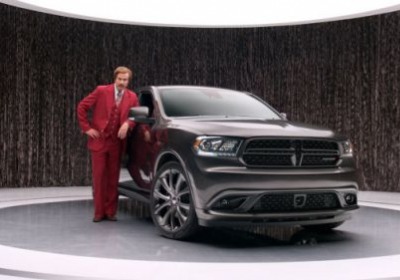 Ron Burgundy was put on this planet to do one thing: to read the news. If that ever falls through, though, the womanizing, scotch-drinking anchorman could have a great career just as a Dodge salesman. Bloomberg points out that sales of the 2014 Dodge Durango have rocketed up 59 percent in the first month of Chrysler's funny new ad campaign (which began in early October). But then again, the entire year has been strong for the big SUV, with year-over-year sales increases in the double and even triple digit percentages – including an increase of 117 percent in August.

Of course, the Durango has also received a wealth of new content and a freshened look for 2014 in addition to the Burgundy campaign, and that has to be helping close sales, too. Whether or not the spots themselves are leading to more sales may be a moot point, since they are definitely getting plenty of attention. Almost two months into the marketing tie-up between Dodge and the movie Anchorman 2, Dodge's YouTube videos have received well over seven million views. More than just YouTube shorts and television commercials, the Durango has even received late-night attention, including when Will Ferrell showed up in character as Ron Burgundy on Conan earlier this week.

In the interview, he calls the Durango a "terrible car" that "cracked in half," a joke that probably had Dodge ad execs squirming uncomfortably in their Barcaloungers. Scroll down to watch the Conan interview as well as some of our favorite Burgundy-pitched Durango ads. And there's still plenty of time to "touch" Ron to win a new Durango.










---
By Jeffrey N. Ross
---
See also: Saleen SA-30 Mustang, Camaro and Challenger help celebrate the big 3-0, Dodge celebrates big B-day with 100th Anniversary Editions muscle cars, Toyota, Lexus dominate KBB's Best Resale Value Awards.