Riding along in Ford's bonkers Fiesta ST Global RallyCross car [w/video]
Wed, 28 Aug 2013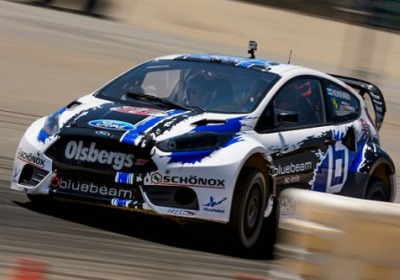 The Mountune-worked Fiesta ST GRC does 0-to-60 mph in 1.9 seconds.
On any given day, and every single weekend, there's at least one parking in the country invaded by manufacturer and team trucks. The be-chromed beasts and their 53-foot trailers are slotted into rows, men and women decorate the lot with orange cones to mark the invisible tracery of a temporary track, cars get unloaded, crews fret over them. The ritual can be as beautiful as the sunrise to those with enthusiast hearts, but it's just as common.

Unless you happened to be in the parking lot in Fontana, California where Ford, OlsbergsMSE and Mountune were showing off the Fiesta ST built for Global RallyCross. Ford's latest global performance car is an experiment on our shores that aims to find out if we – Americans – are ready to support a B-segment hot hatch with a European pedigree.

The Fiesta ST GRC, though, isn't an experiment. It is proof that you can frappe your brain and cudgel your internal organs with nothing more than a few orange cones and a 90-second ride-along with a GRC champion.

The Fiesta ST

More correctly, Ford's experiment isn't about us supporting a European hot hatch, but the same* European hot hatch born in the land of the Angles and Saxons. The Blue Oval is just one of the manufacturers that's been called out by petrolheads for giving everyone else the cool cars while we get the For Dummies versions.




Instead of getting the diluted version of what Team RS has produced, we get what they get.
Said Jamal Hameedi, chief engineer at SVT, "Other companies dumb down their products for Americans, and we've been chastised for that for 10 years or more. We used to engineer a car for Europe, one for North America and one for China – we had three separate programs." Now, with global platforms and the "Global Performance DNA," instead of getting the diluted version of what Team RS has produced, we get what they get.*

"Ford's B and C cars are done in Europe, and wherever the platform is developed, that's where they do the performance car," Hameedi said.

Oh, that asterisk (*)? That's to say that we know we don't get exactly what they get. Ford is apparently drowning in Fiesta doors and has decided to address the surplus by shipping them to us, two-at-a-time, on every ST that comes to the North American market. As well, "There's a slightly different body-in-white and slightly different parts, and the shock valving is different because of the weight distribution, but it's all to get to the same end point."


"We bought a JCW Mini and that was the most fun. This beats that."
On the other hand, think of the differences that were engineered into this car just for us. "These are generalities, of course," Hameedi said, "but Europeans place a premium on steering precision, and on braking – they probably prefer a much higher initial bite. Typically an American driver wants something more linear and progressive. And Europeans don't give a [censored] about brake dust. Europeans will tolerate a certain amount of brake noise on a high-performance car. An American, no way – any noise is a problem." To you Europeans, feel free to thank us for your silent brakes that spew less dust.

If you're still disappointed about the number of portals, however, Hameedi has this question for you: "At $21K, it's lights-out the best. I mean, what else can you buy?"



Well, it's actually $22,195 to get it off the lot after you've paid destination and handling. And there are other cars on the block that could be compared (Volkswagen Golf GTI, Honda Civic Si, Subaru BRZ for instance); however, few if any are zeroed in on the same premise: not merely fun to drive, but pure European driving dynamics in a light, four-door package. Perhaps the closest you'd get is a hatch that Hameedi brought up in making his point – again – about the Fiesta ST's segment mash-up: "We bought a JCW Mini and that was the most fun. This beats that. If you have a $15,000-$20,000 budget and you want a car that's fun drive performance car, this is the only game in town."


"One of the biggest challenges was to find a road in the US tight enough to bring out its character."
Scientists have estimated that that kind of talk will elicit the same grammatically butchered response from car-guy listeners at least 98.3 percent of the time: "Them's big words." Especially when, even though the Fiesta ST is less expensive than its rivals, that quoted budget will need another few thousand ducats to carry the day. The price does come with a complimentary driving school at the ST Octane Academy at Miller Motorsports Park in Utah, however, and in the long-term this hot hatch does get better gas mileage than the competition.

The reception and the reviews so far – and the European order books – could give the claims some substance. And our own Steven Ewing made the Cooper JCW comparison when he drove the as-yet-forbidden three-door, writing, "It's a pure joy – far closer to something like a Mini John Cooper Works than any of America's larger hot hatch rivals."

Even buyers might not get the memo about that joy on our wide open roads, though. "One of the biggest challenges," Hameedi said, "was to find a road in the US tight enough to bring out its character. We took it up Angeles Crest Highway, but even that was still more open and winding than back roads in Europe."



Ford doesn't know how its experiment is going to do here, and even though it's a global platform, it still needs to justify its existence on our shores. "Global cars are more difficult than a single-continent car," said Hameedi. "Each region has a business plan, and you even have to account for things like currency jumps."

So to have any hope of getting the three-door here, which Ford has said it is open to, some of you prospective buyers might need to 'take one for the team' to ensure the five-door is a success.


The Fiesta ST GRC

You'll be aided in your efforts by the marketing team's plan to keep the hatch embedded in the Vine-length attention spans of the target demographic, millennials. That plan has put the Fiesta ST* on the grid of the Global RallyCross championship, a series that has only been here for a few years but is quickly sponging up fans thanks to ESPN's involvement. In a little more than two years it has gone from "Oh, they're bringing some Euro rally thing here," to "It's kind of a big deal."






What's the first thing he needs in order to turn an ST into an ST GRC? "A grinder."
Ah yes, another asterisk (*). That's because we know the Fiesta ST GRC isn't exactly a Fiesta ST – and the differences this time go well beyond the door count. Built by OlsbergsMSE (for Motor Sports Evolution), what rolls through the garage doors of the Swedish firm is a Fiesta chassis. We when we asked the OlsbergsMSE mechanic (the one who preps Tanner Foust's car and has helped the Top Gear USA host win two consecutive GRC championships) what's the first thing he needs in order to turn an ST into an ST GRC, he immediately said, "A grinder." That would be for the purposes of laying in the 70 meters of steel reinforcement. For starters.

Gone are the six-speed manual and torque vectoring control front-wheel-drive transaxle used on the street car, installed are race-worthy items like a Sadev six-speed sequential manual, four-wheel-drive system and huge Alcon brakes. When we asked how long it takes to build a GRC Supercar from scratch, the mechanic sighed and looked off into the distance, finally saying "A Lites car [the feeder class to Supercars] takes about 900 hours."





The ST GRC will be get to 90 mph in 3.5 seconds. That's faster than a Bugatti Veyron Supersport.
Also gone from that street car is the 197-horsepower, 1.6-liter EcoBoost four-cylinder engine. It is replaced by a Ford-sourced, 2.0-liter Duratec production block that's been fitted with a special Garrett turbocharger and Frankensteined by Mountune to produce up to 600 hp and 590 pound-feet of torque (compared to 214 lb-ft, on overboost, in the production car). The engine fettler builds motors for the Fiesta STs and Dodge Darts (like Travis Pastrana's) in GRC, for the World and British Touring Car Championships and for all the Lites cars (which are all Fiestas).

The Fiesta ST in dealerships goes from 0-to-62 miles per hour in 6.9 seconds. The Mountune-worked Fiesta ST GRC does 0-to-60 mph in 1.9 seconds. In case you didn't know, that's faster than a Formula One car. In 3.5 seconds, the ST GRC will be doing 90 mph. Yes, that's faster than a Bugatti Veyron Supersport.

They try to make each engine last an entire season. It might sound outrageous, but there are only nine rounds per year, each race is four to six minutes long and we were told each engine is made from the best stuff out there. Said Mountune mechanic Rob Denney, "The engines are so highly stressed, everything has to be so precise, that each part is from the best manufacturers of components. You want to get the latest and the best from suppliers from all over the world."




OlsbergsMSE is also devoted to truth in branding, its operations manager telling us, "We have genuine technical partnerships with our suppliers – it's not about who wants to put stickers on cars."

No surprise to hear that the motors aren't cheap, then. We were told a GRC Supercar retails for about $300,000 to $500,000. The engine and ECU alone are $93,000 of that.


The Blender

When it came time for a ride-along with one of the four drivers there – Americans Tanner Foust and Brian Deegan, Swede Patrik Sandell and Finn Toomas Heikkinen – we were harnessed into the shotgun seat of Heikkinen's Bluebeam car. The two Europeans have a thoroughly Euro racing pedigree: Sandell won the junior World Rally Championship in 2006 and spent four more years in WRC before jumping over to GRC; Heikkinen, all of 22 years old, did six years of karting and three years of Formula Renault before getting into GRC and winning the European series in his first year. Asked about the difference between driving a WRC and a GRC car, Sandell said, "GRC cars have twice the horsepower of WRC cars, other than that they're quite similar – for instance, Ken Block drives a WRC car with a different engine."




They try to make each engine last an entire season.
What is unlike WRC is the challenge of getting through the first corner of a GRC race. Everyone we spoke to said the toughest task is that initial bend. "You've got 10 cars that want to get around," Sandell said. "The first cars are really aggressive, the guys behind are using the first cars to brake." Heikkinen concurred. "Being in the first row is the best, but it's dangerous."

As Heikkinen pulled out to begin our hot lap, we told him, "Feel free to go as fast as you can."

It wasn't a hot lap, it was a jumble of straight-line G forces, smoke-filled drifts and internal hemorrhaging every time Heikkinen hit the brakes. We thought we'd been belted in tight by one of the mechanics, but as soon as Heikkinen ordered up a foot-full of Alcon stoppers we realized "This harness could be a lot tighter." Imagine one of those NASCAR wrecks where a guy in the middle of the pack gets turned sideways and cold-cocked into a new direction by 16 other cars and the wall, and it goes on for 90 seconds. That's what this ride was like. The only thing missing were roof flaps, cussing on the radio and a pit-lane confrontation when we got out.







"In Europe you've got to bring people to the sport. Here you bring the sport to the people."
That's the kind of driving that has put Heikkinen out in the lead of the GRC championship and made him a five-time consecutive race-winner, including a victory in the most recent round at Atlanta. Besides the unanimous agreement on the trials of the first-corner, everyone we spoke to believes GRC has a bright future. It's short and easy to follow, and the tracks aren't built in the forest as in Europe, but in urban venues. Said Sandell, "In Europe you've got to bring people to the sport. Here you bring the sport to the people."

"More people come to the races here, and we already have superstars," said Heikkinen, speaking of Block, Foust and Deegan. If he keeps driving the way he does, he could be one of them, here, soon enough.
---
By Jonathon Ramsey
---
See also: Bacon-wrapped Ford Fiesta hams it up for International Bacon Day, Meet Floyd Pullin, 102-year-old honorary president of Ford trucks [w/video], Ford S-Max Concept previews new look, technology for Euro seven-seater.