Report: GM temporarily restarts Saturn Outlook, Hummer H3 production
Tue, 16 Mar 2010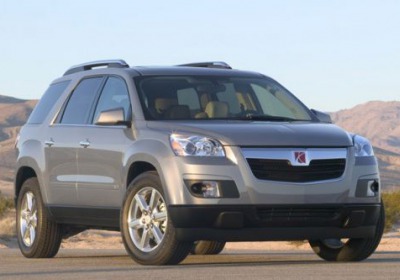 Saturn Outlook – Click above for high-res image gallery

Even though both the Saturn and Hummer brands are being phased out, General Motors has reportedly revived production of both the Outlook crossover and H3 SUV to meet consumer demands.

Last month, GM assembled 1,037 Outlooks at its Lansing, Michigan facility, which is where the crossover's Lamda platform stablemates (Buick Enclave, Chevrolet Traverse and GMC Acadia) are built. A spokesperson for GM states that production was reinstated to utilize the rest of the Saturn-specific material at the facility, and that the automaker will continue to assemble the Outlook for a few more weeks.


Hummer, on the other hand, will produce 849 H3 and H3Ts to fulfill an order placed by a fleet company. GM's Shreveport, Louisiana plant will commence production of these vehicles on April 12, and the automaker says that this order will be completed no later than May 13. After that, the Shreveport plant will continue to only produce the Chevrolet Colorado and GMC Canyon pickups, though the fate of those vehicles is rather shaky, as well.


Related Gallery

Saturn Outlook

[Source: Automotive News – Sub. Req.]
---
By Steven J. Ewing
---
See also: Out With A Bang: Hummer dealer giving away free shotgun with every new vehicle purchase, Report: Saturn owners offered $2,000 to stick with GM products, Honda wins Commercial of the Decade, but not for the ad you think [w/VIDEO].