Ram may build more trucks with sports team tie-ins
Thu, 04 Apr 2013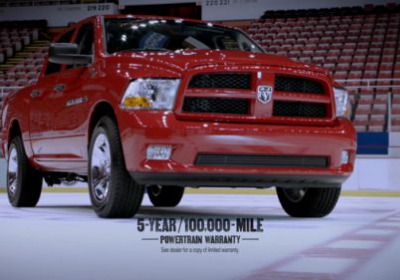 After a rather successful foray with a Red Wings edition of the Ram 1500 last year – some 3,000 units sold – the truck brand is both re-upping its relationship with Detroit's hockey powerhouse and considering expansion into other sport franchises.

Ram announced last month that it would carry on its partnership with the Red Wings throughout the 2012-13 NHL season. The company will not offer a special edition version of the 2013 Ram, due in part to the strike-shortened NHL season. In a recent interview with Bloomberg, Ram boss Fred Diaz called the Red Wings partnership an experiment that "worked out so incredibly well, we're looking at the possibility of doing other things with other sports."

Diaz doesn't see Ram doing deals with entire leagues, but does think that other teams and cities, with a similar "rabid fan base" could make sense for co-branding. "We'll pick our spots and our moments, " said Diaz, "and if we feel like we have a good opportunity, we'll do it."

Check out some of the marketing materials for the 2012 Ram 1500 Red Wings Edition in our attached gallery and let us know which teams/cities you think would pair well in Comments.

Ram Truck Brand and Detroit Red Wings Continue Partnership for 2012-13 Season

Expanded Partnership Includes Two 100-Foot Images Welcoming Fans to Joe Louis Arena

March 18, 2013 , Detroit - The Ram Truck brand, Chrysler Group LLC's Great Lakes Business Center and Southeast Michigan Ram dealers are continuing their partnership with the Detroit Red Wings, one of America's most successful professional sports franchises. The expanded partnership for 2012-13 includes the addition of two Ram Truck and Red Wings-themed displays on the exterior of Joe Louis Arena. The 26' x 100' building identifiers will adorn both the east and west exterior walls, welcoming fans to Joe Louis Arena.


"We are very pleased to expand our relationship with Ram and create an enhanced visual to the outside of Joe Louis Arena that welcomes our fans," said Tom Wilson, Olympia Entertainment President. "We are proud of the partnership and all that we are able to accomplish together."

"The hard work, fighting-spirit and determination exhibited by the Detroit Red Wings embraces the values shared not only by Ram Truck but also by the brand's dedicated customers," said Mike Dragojevic, Director of the Great Lakes Business Center. "We are pleased to once again be named the 'Official Truck of the Red Wings' and build upon the partnership for the 2012-13 hockey season."

Continued elements in the partnership include: Ram Truck being named the "Official Truck of the Red Wings"; television and radio spots narrated by Sam Elliott, the voice of the brand, and featuring Red Wings forward, Johan "Mule" Franzen; a Ram Truck mural inside Joe Louis Arena featuring goaltender Jimmy Howard; concourse curtains of the Ram truck grille; virtual signage; an in-ice logo; and several in-game promotions.

About Ram Truck Brand
The Ram Truck brand continues to establish its own identity and clearly define its customer since its launch as a standalone vehicle brand. Creating a distinct brand for Ram trucks has allowed the brand to concentrate on how core customers use their trucks and what new features they'd like to see. Whether focusing on a family that uses its half-ton truck day in and day out, a hard-working Ram Heavy Duty owner or a business that depends on its commercial vehicles every day, Ram has the truck market covered.

The Ram Truck brand has the most innovative lineup of full-size trucks on the market. Ram Truck has emerged as a full-size truck leader by investing substantially in new products, infusing them with great looks, refined interiors, durable engines and features that further enhance their capabilities. Truck customers, from half-ton to commercial, have a demanding range of needs and require their vehicles to provide high levels of capability. Ram trucks are designed to deliver a total package.

About Detroit Red Wings
The Detroit Red Wings hockey club, an Original Six member of the National Hockey League and 11-time Stanley Cup Champion, was purchased by Michael and Marian Ilitch in 1982. Other Ilitch companies in the food, sports and entertainment industries include: Little Caesars Pizza, Blue Line Foodservice Distribution, Ilitch Holdings, Inc., Olympia Entertainment, Olympia Development, Little Caesars Pizza Kits Fundraising Program, Champion Foods and Uptown Entertainment. Michael Ilitch owns the Detroit Tigers. Marian Ilitch owns the MotorCity Casino Hotel. For more information, visit www.DetroitRedWings.com.
---
By Seyth Miersma
---
See also: Chrysler thinking of taking on Ford SVT Raptor?, 2014 Ram Promaster pricing starts at $26,030*, Chrysler's internal documents question Ram quality as workers protest.