Porsche revisits the 911's dirty side with rally history film
Fri, 03 Jan 2014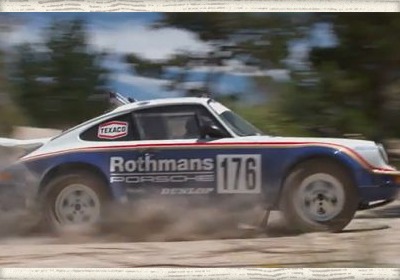 It might not be a coincidence that there are rumors of Porsche revealing a safari version of the 911 at April's Beijing Motor Show, just as the Dakar Rally is about to begin. Adding fuel to the dusty desert fire is a just-released official video of Jeff Zwart driving the Porsche 953 that Jacky Ickx drove to victory in the 1984 edition of the race.

In the video, the seven-time Pikes Peak International Hill Climb winner talks about how he grew up with the 911; it wasn't only the car he learned to drive in, it was his choice of racecar no matter whether the course was tarmac or the dirty stuff.

You can decide for yourself if these recent events are mere coincidence while you enjoy the 953's exhaust note in the video below. If you've got the time to see the 953 during its race-conquering drive and find out what the ersatz Paris-Dakar Rally used to be, we've also included a broadcast of that 1984 race below as well. Fast-forward to 19:44 to see the Porsches cross the open dessert and 29:09 to watch one of them tackle the dunes.








---
By Jonathon Ramsey
---
See also: Porsche Fire and Ice is chilling art born of flames, Porsche planning jacked-up 911 Safari? [w/poll], Paul Walker's accident due to 'speed, and speed alone'.