Porsche Macan sales may push brand past 200K unit goal early
Tue, 13 Aug 2013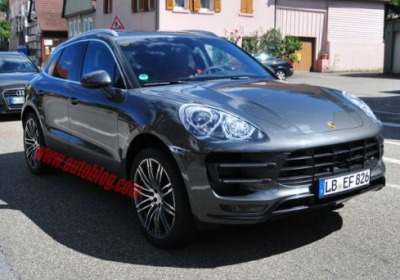 In late 2010, Volkswagen announced that it would spend the equivalent of $71 billion through 2015 to beef up its product lineup, determined to overtake Toyota in overall sales and profitability by 2018. Each of VW's many brands, in turn, would play its part contributing to a goal of 10 million sales per year. VW-owned Porsche was expected to sell 200,000 vehicles per year by 2018, but with the imminent arrival of the Macan small sport utility vehicle in 2014, the automaker is poised to meet that goal years ahead of schedule, Automotive News reports.

Porsche sold 143,096 cars in 2012, and IHS Automotive predicts Porsche will sell 63,000 Macans in 2014, according to Automotive News, which would make it the brand's best-selling vehicle. Do the math and you can see how Porsche could easily beat original expectations ahead of schedule. But Porsche's sales and marketing boss Bernhard Maier says not so fast: "We will not offer [63,000 Macans] in 2014 as we will still be ramping up production and introducing models top down," he told Automotive News Europe. Whether Porsche surpasses the 200,000 mark early or not, he said, the company will not set a new sales target and will remain committed to its business model.

The Macan shares its architecture with the Audi Q5, but Porsche will be able to charge more for its SUV. Tim Urquhart, a senior analyst at IHS Autmotive, told Automotive News that Porsche can charge 10 to 20 percent more, for what is basically the same SUV, than other VW Group brands. How's that for brand value?

If you think that's a cool trick, then take a look at the first-half 2013 operating profits and the number of cars sold for Volkswagen, Audi and Porsche. VW, the high-volume manufacturer, sold 2.4 million vehicles and made a profit of 1.5 billion euros ($2 billion). Audi, a relatively low-volume manufacturer, sold 692,000 cars and made 2.6 billion euros ($3.5 billion). Porsche, with even lower volume still, sold 78,000 vehicles and profited 1.3 billion euros ($1.7 billion)! On average, VW profited about $830 per car, Audi made $5,000 per car, but Porsche takes the cake, profiting a whopping $22,190 per car sold.
---
By Damon Lowney
---
See also: Porsche 911: Big in Taiwan, 2014 Porsche Panamera 4S Executive, 'Faster. Farther.' dives into the history of Porsche racing tech.