Porsche 959 Prototype started it all
Wed, 11 Sep 2013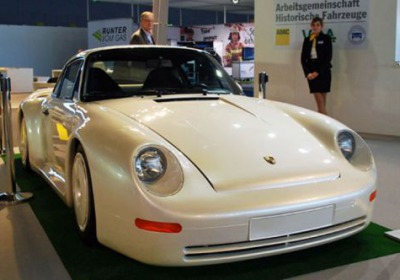 While Porsche was unveiling the new Nürburgring-dominating 918 Spyder downstairs in Hall 3 here at the Frankfurt Messe, there was another Porsche supercar quietly and discretely on display upstairs in the same hall. That, of course, was the 959. But not just any 959: this was the original Gruppe B prototype.


The 959 was first developed as a rally car in the early 80s to compete with the likes of the original Audi Sport Quattro S1, Ford RS200 and Lancia Delta S4. But Zuffenhausen soon saw its potential as a production road-going supercar, emerging as a technological marvel to challenge the decidedly linear approach of the Ferrari F40. It still stands as a groundbreaking supercar in its own right, but also lead to the first all-wheel-drive 911 Turbo and set the stage for the Carrera GT and aforementioned 918 Spyder that followed to cap the top of the evolving Porsche range.

This original Gruppe B prototype, which presaged the production 959, packed a 450-horsepower 2.8-liter twin-turbo flat-six into an even sleeker form than the final version that followed. We caught up with it on display as part of a display of 80s German classics, of which this 959 prototype immediately stood out as the pick of the proverbial litter. Check out the hotness in the high-resolution image gallery above.
---
By Noah Joseph
---
See also: Watch onboard video of the Porsche 918 Spyder's record 'Ring lap, Porsche 918 Spyder debuts with new N"urburgring lap record [w/video], 2014 Porsche Panamera Diesel is something to torque about.