Porsche 918 Spyder with Weissach package does 0-62 mph in 2.6 seconds
Mon, 18 Nov 2013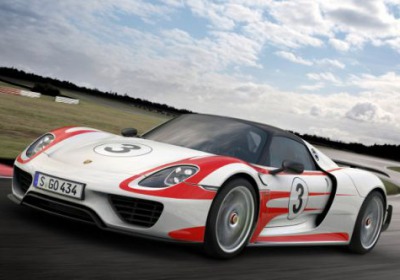 Porsche marketers are having a field day with the 918 Spyder after some last-minute tuning improved the car's performance. They now say that it's so fast it's already beaten itself. Let us explain: Using a Weissach package-equipped 918 as an example (which reduces the plug-in hybrid supercar's weight through the deletion of some interior items, more generous use of carbon fiber and magnesium wheels), the car's previous official 0-62 miles-per-hour time of 2.8 seconds has been cut to 2.6. Additionally, 0-124 mph takes 7.2 seconds and 0-186 mph is dispatched in 19.9 seconds, times that were reduced by half a second and 2.1 seconds, respectively.

In all-electric mode, a non-Weissach pack 918 does 0-62 mph in 6.2 seconds (with the package, 6.1 seconds), down from 6.9 seconds. Efficiency is also improved thanks to the final tuning. The New European Driving Cycle (NEDC) rating of a Weissach pack-equipped car equates to 94 miles per gallon, up three mpg compared to before. That's pretty good for a car with 887 horsepower!

Check out the press release below for more details on how Porsche's final tuning measures improved its flagship supercar.

PORSCHE 918 SPYDER BEATS OWN BENCHMARK VALUES

- Final tuning measures for Porsche plug-in hybrid super sports car confirms definitive performance
- Acceleration from 0 - 62 mph achieved in 2.6 secs; 0 - 186 mph in under 20 secs

- Ground-breaking 918 Spyder features a V8 petrol engine and two electric motors to deliver 887 hp combined
- Outstanding breadth of performance includes capability to accelerate from 0 - 62 mph under electric power alone in 6.2 seconds, and return up to 94 mpg and 70 g/km CO2

Shortly before delivery of the first customer vehicles, the Porsche 918 Spyder is beating its own benchmark values. Marking the success of the final tuning measures, the super sports car from Stuttgart is now clearly the fastest ever road-going Porsche. With the weight-optimised 'Weissach' package fitted, the 918 Spyder accelerates from zero to 62 mph (100 km/h) in just 2.6 seconds (-0.2 seconds quicker than previously), from zero to 124 mph (200 km/h) in 7.2 seconds (-0.5 seconds), and passes the 186 mph (300 km/h) mark after 19.9 seconds (-2.1 seconds).

Dr. Frank-Steffen Walliser, Senior Vice President 918 Spyder programme, highlights the significance of these results: "We have now used all options available to electrify the 918 Spyder, working right up to the last minute to do so."

The enhancements also bring benefits in terms of the electrical performance delivered by the hybrid super sports car. The two electric motors on the front and rear axle allow the 918 Spyder to accelerate from zero to 62 mph (100 km/h) in 6.2 seconds, without producing any emissions. Such a performance marks a reduction of seven tenths of a second versus the previous time. With the Weissach package fitted, this electric sprinting time is reduced to 6.1 seconds.

The 918 Spyder complete with Weissach package currently holds the lap record for road vehicles on the Nürburgring Nordschleife, with a time of 6:57 minutes. At the same time, as a vehicle delivering particularly low consumption and emission figures, the model is certified to efficiency class A+.

With the Weissach package fitted, the total NEDC fuel consumption of the 918 Spyder amounts to 94 mpg (3.0 l/100 km) – 91 mpg (3.1 l/100 km) without the Weissach package. That equates to CO2 emissions of 70 g/km (72 g/km without the Weissach package). The level of energy consumption was determined to be 12.7 kWh/100 km during the approval cycle.
---
By Damon Lowney
---
See also: Road & Track names its 2013 Performance Car of the Year, Touring Italy in a classic Porsche will have you feeling continental, Porsche planning new 911 Speedster as 550 tribute.