Porsche 918 Spyder to birth stretched 2+2 version?
Fri, 23 Aug 2013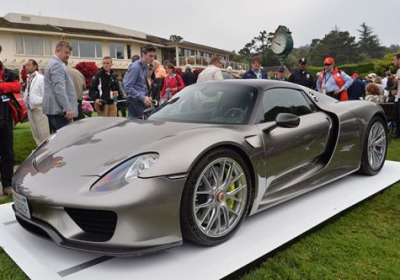 Porsche is known for its ability to spin off a litter of variants from a single model, and according to a report in Automobile the 918 Spyder (pictured here) might not be spared the house trick. Having taken too many brains and too much money for too much time, company chiefs are said to be examining ways to get more for their development euro out of the supercar, and Plan A is apparently otherwise known as Plan 984. That would be a four-seater, rear-wheel drive supercar that uses a stretched mold of the 918's carbon fiber tub, keeping the V8 in the same mid-mounted place and costing around 350,000 euro.

That would be less than half the MSRP of its inspiration, but the details don't sketch out a car that's just half as good. Automobile speculates it would get something like 700 horsepower in order to best the coming 911 GT2, and about 440 pound-feet of torque. The 984 is quite a ways short of being confirmed; even though a full-size study is said to exist, it's like the 918 would need to become a bigger sales hit for the 984 to happen.


The 984's fortunes don't change those of the 960, the supercoupe Porsche is building to challenge Ferrari. Its potential specs haven't changed since the last report in January, power coming from a 5.0-liter, twin-turbo, eight-cylinder boxer engine with something like 650 hp pushing a curb weight of roughly 3,100 pounds. The means a suspected 0-to-60 mile-per-hour time of 2.5 seconds.

And there's even more than that coming from the Stuttgart fold. You can read the rest at Automobile, and you can register your reaction to a supercar version of the Panamera in Comments.
---
By Jonathon Ramsey
---
See also: Porsche 911 GT3 dukes it out with MP4-12C on track and GT-R on spectacular roads, Porsche 911 Carrera 4S named Motor Trend Best Driver's Car [w/video], Porsche has doubled US sales to women [w/videos].