Porsche 918 Spyder could lap the 'Ring even quicker [w/video]
Mon, 16 Sep 2013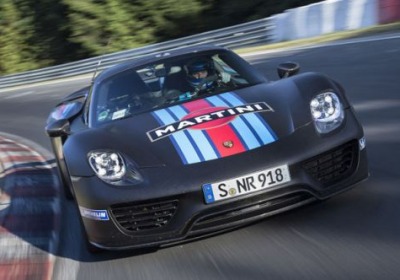 Porsche had a lot to crow about at the Frankfurt Motor Show last week. Not only did it debut the new 50 Years edition and Turbo versions of the 911 and the new hybrid and diesel versions of the Panamera, but while unveiling the final production version of the new 918 Spyder, it revealed the record lap it set around the Nürburgring.

The 918 Spyder's 6:57 lap time makes it the fastest street-legal production car ever to lap the Nordschleife and the first to break the seven-minute barrier. But the driver who clocked the time thinks it can go even faster.

That driver was Marc Lieb, who has won the Nürburgring 24-hour race four times, making him something of an expert on the subject. In speaking with Australia's Drive TV, Lieb suggested that they could get even more out of the car, as you can hear for yourself in the video below.

If McLaren manages to beat the 918's time with the new P1, we wouldn't be surprised to see Porsche and Lieb have another go at it. Word has it that they already managed a blistering 6:48 on racing slicks (the record lap having been set on street-legal rubber), which would put it right on pace with the time the barely-legal Radical SR8 LM set back in 2009.


---
By Noah Joseph
---
See also: Porsche teams with Delta airlines to woo VIP passengers, Drive-up bank robbery perpetrated with Cayenne and WRX, Porsche 918 Spyder configurator goes live.