Porsche 911 GT3 dukes it out with MP4-12C on track and GT-R on spectacular roads
Thu, 22 Aug 2013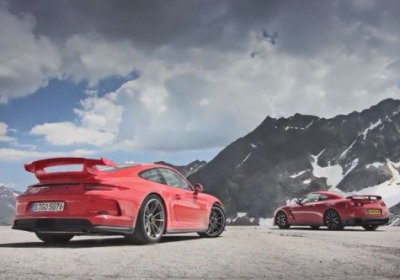 The Porsche 911 GT3 has always been a favorite among auto journalists and car enthusiasts alike, but with the introduction of the new 991-generation GT3, which is the first GT3 with electric power steering and no manual gearbox option, how does it stack up to the competition from McLaren and Nissan?

Evo's Jethro Bovingdon attempts to answer that question by pitting the rear-engine Porsche against the mid-engine McLaren MP4-12C on a racetrack and the front-engine, all-wheel-drive Nissan GT-R on some amazing, twisty European back roads. We won't give away the victor of either comparison, but we will say that, in Evo's test, the McLaren's 141-horsepower advantage doesn't give it as much of an edge over the Porsche on a racetrack as one might think, and the lack of a manual gearbox and the inclusion of electric power steering on the GT3 isn't detrimental to enjoying the car on a back road.


Watch the video below to find out which car Bovingdon prefers on road and track – we think you'll be happy to see him drift around turns every chance he gets.



---
By Damon Lowney
---
See also: Nissan's Dacia Duster-based Terrano revealed, Porsche 911 Carrera 4S named Motor Trend Best Driver's Car [w/video], Nissan says next Rogue coming September 10.