Porsche 911 Carrera 4S named Motor Trend Best Driver's Car [w/video]
Thu, 22 Aug 2013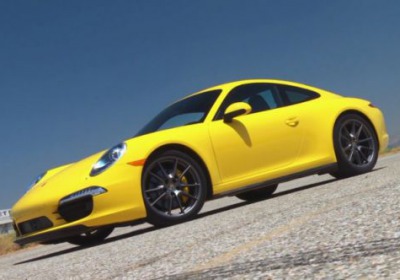 Motor Trend has named the 2013 Porsche 911 Carrera 4S its best driver's car for 2013. The annual
competition for the title included some of the best performance cars that have gone on sale in the past year. The new C4S follows the 2012 Best Driver's Car award winner, a two-wheel-drive Carrera S.

Determining the winner of the coveted title isn't easy. Each vehicle is pushed through Motor Trend's normal battery of instrumented tests. Editors then spend time with each car over a 500-mile tour of mixed conditions before a final batch of testing at Mazda Raceway Laguna Seca, with pro racer Randy Pobst at the wheel.

The video below features one of the Carrera's hot laps with Pobst at the wheel, providing commentary on just what the car is like at its limits. Also, there's plenty of that sweet, distinctive, Porsche flat-six howl. Take a look below for the full video.






Porsche 911 Carrera 4S Named 2013 Motor Trend Best Driver's Car

Atlanta. Motor Trend has named the Porsche 911 Carrera 4S as its Best Driver's Car for 2013. The Best Driver's Car honor is decided after a yearly competition among the top new or improved performance cars available in the U.S. market. This is the second consecutive year that a 911 variant has won the award.

"The 911 Carrera 4S has terrific balance, telepathic steering, a potent engine, and a lightning quick transmission," said Ed Loh, Editor-in-Chief of Motor Trend. "But what impressed our judges the most was the confidence and joy it delivered, on the street and at the track. Congratulations to the Porsche 911 Carrera 4S, Motor Trend's Best Driver's Car for 2013."

"This is a significant honor for our brand as we celebrate the 50th birthday of our 911 sports car this year," said Detlev von Platen, President and CEO, Porsche Cars North America, Inc. "Being named Motor Trend's Best Driver's Car shows that our flagship car still has the same appeal it has had for 50 years."

Each year, Motor Trend editors choose the car that most compels them to want to drive. Each contender is run through a series of instrumented performance tests, a 500-mile road trip highlighted by aggressive canyon driving on a closed course and finally, evaluation at Mazda Raceway Laguna Seca. The test aims to go beyond the numbers to uncover the one vehicle that offers enthusiasts the most engaging and rewarding driving experience possible.

The Porsche 911 Carrera 4S, along with its opponents, is currently being featured during Best Driver's Car Week (August 19-23) on Motor Trend's website www.motortrend.com and YouTube channel, www.youtube.com/motortrend. Enthusiasts can follow all the track testing action that took place at Mazda Raceway Laguna Seca and discover how each of the competitors performed throughout the competition by viewing a series of stories and videos.
---
By Brandon Turkus
---
See also: Porsche has doubled US sales to women [w/videos], DP Motorsport tries to turn a vintage Porsche 911 into a sleeper, Leno buys classic Porsche 356 Carrera 2, seeks out and finds perfect expert for help.