PickupTrucks.com's latest test results in a familiar winner [w/video]
Wed, 19 Jun 2013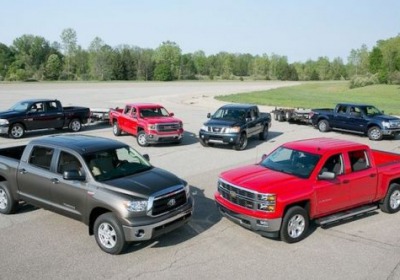 PickupTrucks.com has gone and thrown the latest batch of half-ton pickups into a cage match to see who would come out on top. The site put the 2014 Chevrolet Silverado 1500, GMC Sierra 1500, 2013 Ford F-150, Ram 1500, Toyota Tundra and Nissan Titan through a battery of tests. Those included 0-60 miles per hour acceleration, 60-0 mph deceleration, fuel economy, a hill climb, and payload and towing. They even threw the rigs on an autocross course to evaluate overall handling. Each truck was given points based on how it scored in each evaluation.


Who came out on top? Somewhat surprisingly, the 2013 Ford F-150 walked away with the gold, though fewer than 50 points separated first and fourth place. Head over to PickupTrucks.com to read the full evaluation and the final results. You may be shocked to see exactly where some of the segment's newest additions placed. You can also watch a video on the test below.



---
By Zach Bowman
---
See also: New J.D. Power Initial Quality Study puts Porsche, GM in spotlight, Chevy Silverado, GMC Sierra 4.3-liter EcoTec3 V6 nets 18 mpg city, 24 highway, Nismo GT-R poised to be fastest Nissan ever.