Petrolicious studies the purity of a Porsche 911 2.7 RS
Thu, 17 Oct 2013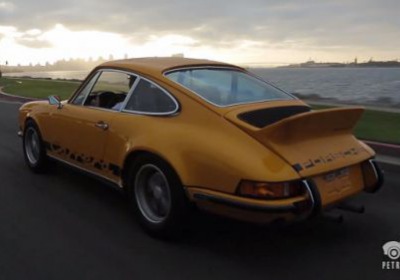 Water-cooled Porsches are superior to the old, air-cooled models. This really isn't up for debate, despite the mob of Porsche purists, with pitchforks and torches in hand, currently descending on the Autoblog offices. Water-cooled models are more powerful and easier to live with, two factors that make modern Porsches just so darn amazing.

And while we won't hear arguments on anything we've written above, we will say that the old air-cooled models, while not superior, are just, somehow, better. They sound better - a lot better. They're simple, elemental and wildly entertaining things, that just beg for more and more. They rev in a way that forces drivers to work to unlock their power, rather than just push their right foot down. Part of the appeal of air-cooled Porsches, in addition to what we just listed, are the gorgeous cars they're slotted into, like the subject of the latest video from Petrolicious.


Starring a 1973 Porsche 911 Carrera 2.7 RS, this video is a bit shorter than recent ones, but it's no less exciting. This 911, complete with it's sweet-sounding exhaust is the kind of simple, entertaining thing we can watch over and over. Scroll down for the full video.



---
By Brandon Turkus
---
See also: Son of Porsche 911 designer recalls 1963 Frankfurt debut, Porsche Supercup racer dies in crash in Australia, Porsche Macan teaser reveals unique quad-LEDs.