Old vs. New: 2014 SRT Viper takes on upgraded 16-year-old Dodge Viper
Fri, 08 Feb 2013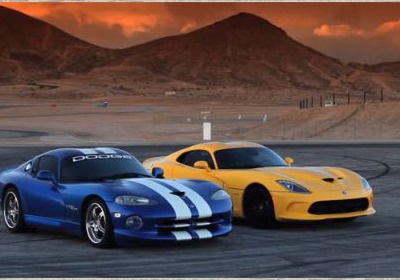 It's easy to play the "Would you rather have a New X or an Old Y with a bunch of upgrades?" game more often than we care to admit, but the crew at Car and Driver have taken bench racing to the next level with their latest video. In it, the magazine pits a brand-new 2014 SRT Viper against a highly modified 1997 Dodge Viper GTS. There are 16 years between the time this particular GTS rolled off the production line and when the new car bowed, but that doesn't mean the old snake's owners have been sitting on their hands.

Thanks to a spate of modifications, the GTS offers up a better power to weight ratio than the new machine, but is that enough to overcome the technological leap forward represented by the 2014 Viper? We won't spoil it for you. You'll just have to check out the full clip below for yourself.



---
By Zach Bowman
---
See also: Mopar '13 Dart is a bruiser of a compact, Defiance Dodge Charger, saving Earth from aliens isn't clean work [w/video], 2013 Dodge Challenger R/T hits the Redline.