Official USPS Muscle Cars stamps coming to a mailbox near you
Thu, 21 Feb 2013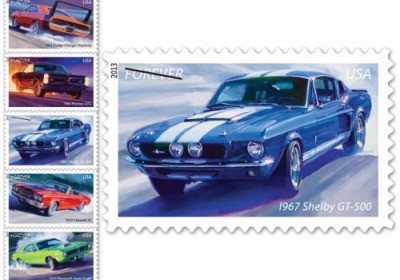 As much as our digital lives have cut down on our trips to the post office, there are still times that sending "snail mail" is necessary. With us car lovers in mind and philately in their hearts, the good folks at the United States Postal Service will introduce a new stamp design called "Muscle Cars" starting on February 22.


Designed by artist Tom Fritz, the new collection of stamps consist of five classic muscle cars: 1969 Dodge Charger Daytona, 1970 Chevrolet Chevelle SS, 1967 Shelby GT-500, 1966 Pontiac GTO and 1970 Plymouth Hemi 'Cuda. In addition to just the stamps, the USPS is also commemorating the new series with plenty of collectable memorabilia. Previous car-related stamps include 50s Sporty Cars from 2005 and 50s Fins and Chrome from 2008.
---
By Jeffrey N. Ross
---
See also: GM won't sell 2014 Chevrolet SS in Canada, Ford debuts Fusion NASCAR racer that edges closer to stock [w/video], Chevy might've pulled out of NASCAR if it weren't for new Gen 6 car.