Nissan to build Golf-fighter in Spain
Thu, 07 Feb 2013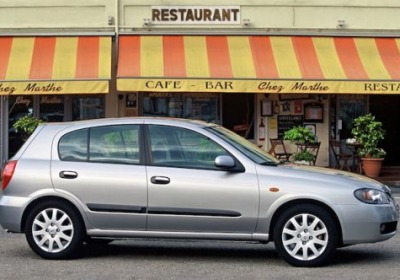 Nissan hasn't had a proper European entry in the ridiculously popular compact hatchback segment since it stopped offering its somewhat staid and uninspiring Almera (above) in 2006. According to Automotive News Europe, the new machine, which will not be called Almera, will be marketed against the Volkswagen Golf and Ford Focus – two extremely popular models in Europe. Production is slated to begin in July of 2014.

The new compact will be built in Barcelona, Spain, at the factory that currently builds the Pathfinder, Navara pickup and NV200 commercial van. An investment of $178 million will be made to assemble the compact car, and an additional $27 million will go to the plant to create more trucks and transmissions for electric vehicles.

The decision to invest in Spain comes after the automaker successfully renegotiated contracts with local unions. Similar talks are underway in France, where Nissan partner Renault is based, but as of yet no new agreements have been struck. Feel free to browse through the official press release below.

NISSAN TO BUILD A NEW PASSENGER CAR AND TO INVEST MORE THAN €130 MILLION IN BARCELONA

Nissan allocates production of a passenger car, additional production of the 1-Ton Pick Up, and assembly of electric-vehicle gearbox

Barcelona, 4th February, 2013 - Nissan announced today that it has allocated production of a new passenger car to its manufacturing plant in Barcelona. Production will begin in July 2014. Barcelona won the bid shortly after reaching a new competitive proposal with the local works council.

The new passenger car brings an additional 80,000 units of annual capacity to Barcelona, through an investment of €110 million, and the creation of 1,000 direct and 3,000 indirect jobs. The move also diversifies the Barcelona plant's production, which previously had been heavily dependent on light-commercial vehicles and 4x4's - vehicles that have been impacted by the economic crisis.

Additionally, Nissan is allocating to Barcelona the production of 24,000 units of additional annual capacity for the 1-Ton Pickup, an investment of €14 million, and the assembly of the gearbox for the Nissan LEAF and Nissan eNV200, an investment of €6 million.


These investments, totalling more than €130 million in the coming years, will be used to renovate production lines for the new passenger car, for the introduction of new technology needed to support electric-vehicle production, and for adapting the supplier park to new production requirements. This adds to more than €200 million of previously announced investment for the production of a new truck in Nissan's Avila plant and the manufacture in Barcelona of the e-NV200, the second all-electric vehicle to be added to Nissan's lineup. In total, the commitment is a clear demonstration to the importance of Nissan's industrial operations in Spain and an endorsement of the competitive efforts made with unions, governments and employees.

Barcelona operations are positioned to become among the most competitive and versatile, with the ability to product passenger cars, 4x4s, LCVs and electric vehicles - a wide range of models designed to meet customer expectations.

Nissan Motor Ibérica Managing Director, Frank Torres comments: "I have the pleasure of sharing with you the fruits of the competitiveness agreement reached last week, which have opened the door to new production opportunities. The most important thing now is to be able to ensure the successful launch of these products and keep the competitiveness commitment. If we do, I am sure new opportunities will come."

He continues: "In the coming years, Barcelona plant will work at full capacity, with an annual output over 200,000 units while maintaining its attractiveness to produce new models. Given the current crisis environment, this is not only a great achievement for Nissan, but for the entire industry in this country."

ENDS

About NISSAN EUROPE

Nissan has one of the most comprehensive European presences of any overseas manufacturer, employing more than 16,000 staff across locally-based design, research & development, manufacturing, logistics and sales & marketing operations. Last year Nissan plants in the UK, Spain and Russia produced more than 695,000 vehicles including mini-MPVs, award-winning crossovers, SUVs and commercial vehicles. Nissan now offers 24 diverse and innovative products for sale in Europe today, and is positioned to become the number one Asian brand in Europe.

About Nissan
Nissan Motor Co., Ltd., Japan's second-largest automotive company, is headquartered in Yokohama, Japan, and is part of the Renault-Nissan Alliance. Operating with more than 248,000 employees globally, Nissan provided customers with more than 4.8 million vehicles in 2011, generating revenue of 9.4 trillion yen ($US118.95 billion). With a strong commitment to developing exciting and innovative products for all, Nissan delivers a comprehensive range of 64 models under the Nissan and Infiniti brands. A pioneer in zero-emission mobility, Nissan made history with the introduction of the Nissan LEAF, the first affordable, mass-market, pure-electric vehicle and winner of numerous international accolades, including the prestigious 2011-2012 Car of the Year Japan and 2011 World Car of the Year awards.
---
By Jeremy Korzeniewski
---
See also: Fiat contemplating sub-brand to compete with Dacia, Datsun, Runway Rumble: Nissan GT-R, Ducati 1098 and Lamborghini Reventon Roadster battle it out, Autoblog Podcast #318.