Nissan's current Rogue renamed Rogue Select, will live alongside next gen
Sat, 28 Sep 2013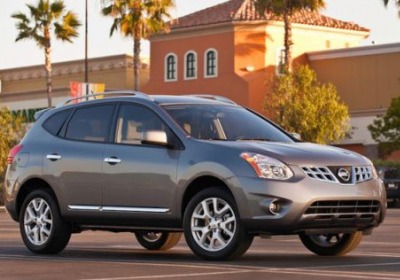 Despite the fact that an all-new generation of its Rogue crossover goes on sale in November, Nissan will continue to sell the current model alongside its replacement. The existing C-platform-based Rogue, which will be renamed Rogue Select, will start at less than $20,000 when it goes on sale in January 2014. At present, a base 2013 Rogue S prices out slightly higher, from $20,310, but we wouldn't be surprised to see the 2014 Rogue Select come to market with more standard equipment and simplified trim options. It will continue to be built in Kyushu, Japan.

According to Nissan, the unusual move is "to satisfy demand for the popular compact sports utility vehicle, currently second-highest seller in Nissan's lineup, as well as provide customers an additional choice in the segment." It's hard to hard to argue with the numbers: Nissan cites 2012 calendar-year sales of 142,349 Rogue units in the US, with 2013 sales increasing 16 percent through August despite the vehicle's age.

The strategy may also give Nissan the chance to ask for more money for the second-generation model (which is based on a new Common Module Family platform shared with partner Renault) while keeping it clear of residual-value-damaging fleet sales. The new Rogue looks to be both larger and more luxurious, with an available third-row seat, and it should be more economical to produce, as it will be built in Nissan's Smyrna, TN plant.

If this decision to continue to sell an existing model while simultaneously selling its successor sounds like a familiar strategy, that's probably because we recently reported that Nissan's luxury marque, Infiniti, made a similar decision, announcing it would continue to sell the current G37 sedan alongside its replacement, the 2014 Infiniti Q50. Read Nissan's press release below for more details on this latest sales move and let us know what you think about this move in Comments.

Nissan to Continue U.S. Sales of Current Generation Rogue - Renamed Rogue Select

Due to popular demand, current generation Rogue to continue in Nissan lineup as Rogue Select

Rogue, the second best-selling vehicle in Nissan's U.S. lineup, is totally redesigned for 2014 model year – set for November on-sale

NASHVILLE, Tenn. – With the November on-sale date of the all-new 2014 Nissan Rogue compact utility vehicle coming fast, Nissan today announced that the popular current-generation Rogue will continue in its lineup for the immediate future.

Renamed the Rogue Select, it is slated to go on sale in January 2014 at a base M.S.R.P.* of less than $20,000 (USD) at Nissan dealers nationwide. Rogue Select complements the completely redesigned Rogue, which debuted on September 10. The strategy behind this move is to satisfy demand for the popular compact sports utility vehicle, currently second-highest seller in Nissan's lineup, as well as provide customers an additional choice in the segment.

In CY2012, Rogue sold 142,349 units in the U.S., while in 2013 sales have increased 16% through August.

"As the compact SUV segment is becoming very specialized, there is an opening for a low-cost, high-content offering, which is a gap that Rogue Select will fill," said Fred Diaz, divisional vice president, Sales and Marketing, Nissan North America, Inc. "Rogue Select will allow Nissan to continue its strong performance in the segment, which will only get stronger once the all-new, U.S.-built 2014 Rogue goes on sale."

The all-new Rogue will be assembled in Smyrna, Tenn., while the current-generation vehicle is built in Kyushu, Japan, where Rogue Select will also be assembled.

More information about Rogue Select, including equipment levels and pricing, will be available closer to its on-sale date.
---
By Lauren DeAngelis Puckett
---
See also: Semi-autonomous Nissan Leaf certified for road use in Japan [w/video], Nissan recalling 909k vehicles globally over accelerator issue, Apple iTunes Radio picks Nissan as first automotive launch partner.