Nissan NV200 Mobility Taxi adds a dose of accessibility to the new-look cab
Thu, 28 Mar 2013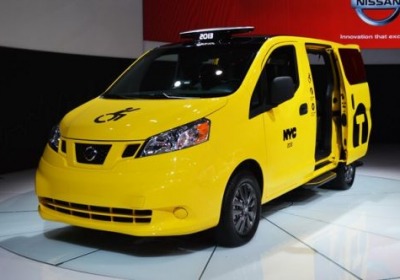 Nissan has been making hay with its NV200 light commercial vehicle in New York. We've known since last year that the van will see service as a taxi in the Big Apple, and more recently, we learned that a variant will be kicking around to rescue ailing Gibson guitars. At its press conference this year, Nissan continued the onslaught with a wheelchair-accessible version of its NV200 Taxi.

The automaker has teamed with BraunAbility – a company that styles itself as the world's largest maker of wheelchair-accessible vans – to create this NV200 Mobility Taxi. The cab features a fold-flat ramp for rearward wheelchair accessibility, as well as a restraint system to keep said chair snugly in place at speed.

In addition to showing off the Mobility Taxi, Nissan announced at its press conference that it will be making both hybrid and fully electric versions of the NV200 Taxi available, as well. Scroll down for the Nissan press release, or take some time with our extensive live and stock image galleries of the NV200 Mobility Taxi.

NISSAN TO CREATE INTEGRATED MOBILITY SOLUTION FOR NV200 TAXI WITH BRAUNABILITY PARTNERSHIP

– Wheelchair Accessible "Taxi of Tomorrow" Headed to Streets of New York, Features Manual Fold-Flat Ramp and Industry-First Integrated Restraint System –

NEW YORK (March 27, 2013) – As Nissan's innovative NV200 taxi gets ready to take to the streets of New York City this coming fall, another crucial part of the "Taxi of Tomorrow" program was unveiled today at the New York International Auto Show – the wheelchair accessible NV200 Mobility NY Taxi.

Working in conjunction with BraunAbility, the Indiana-based market leader in wheelchair accessible vehicles and wheelchair lifts, the Nissan NV200 Mobility Taxi features a rear-entry ramp and an industry-first integrated restraint system that provides safe and quick securement of wheelchairs.

"With more than 600,000 people hailing New York taxis every day, it is important that the NV200 taxi be able to serve everyone, including those with disabilities," said Joe Castelli, vice president, Commercial Vehicles and Fleet, Nissan North America Inc. "Nissan selected Braun as its mobility partner because of its deep experience and proven engineering capabilities. Braun has worked side-by-side with us since January 2012 – when the New York taxi was just a collection of computer drawings – and the final design is everything we hoped for and more."

The Nissan Mobility Taxi looks like and functions like a standard NV200 taxi until the mobility functionality is needed. It's a simple process. After pulling into a safe space at the curb, the taxi operator flips down the 2nd row seat back and pulls a release handle to tumble the seat forward. Next, after opening the wide rear doors, the operator pulls the fold-flat wheelchair ramp out and unfolds it and then loads the passenger. The wheelchair is secured with front and rear tie-down belts and the passenger is fitted with the lap and shoulder belt.
Once the passenger is in place, the ramp folds up and stows in a vertical position. The steps are reversed for exiting the NV200 once the final destination is reached. Then the operator stows the ramp and returns the second row seat to its normal position.

The wheelchair ramp is 30 inches wide, with a ramp angle of 8.6 degrees – exceeding Americans with Disabilities Act (ADA) regulations. It is 72 inches in length and has a load rating of 800 pounds, 200 pounds above the ADA minimum.

"The mobility design meets or exceeds all ADA requirements for accessibility," said Castelli. "The rear-entry ramp is safe and well-suited for the congested streets of New York City, eliminating the need for wheelchair users to cross traffic in order to enter or exit the vehicle."

Nissan has been working with the New York Taxi and Limousine Commission for two years to deliver the safest and most comfortable taxi ever to be on the streets of New York, including a total of eight airbags to ensure maximum protection of both the driver and occupants. The Nissan NV200 Taxi will feature unprecedented innovation and vehicle features to the 13,000-strong taxi fleet. Powered by a 2.0-liter 4-cylinder engine, the Nissan NV200 is designed to reduce carbon emissions and enhance fuel efficiency across the entire taxi fleet as old models are replaced.

The Nissan NV200 is available in more than 40 countries globally, including Japan and , Europe, where the. Nissan NV200 wheelchair accessible models are already on the market. in Japan and Europe.

About the Nissan NV200 Mobility Taxi

Important mobility features include:

• Manual fold-flat ramp that is easily unfolded and stowed out-of-sight until needed
• An industry-first integrated restraint system for safe and quick securement of wheelchairs
• Mobility design that meets or exceeds all ADA requirements for accessibility
• Rear-entry ramp allows safe entry and exit without crossing traffic, ideal for the congested streets of New York City

About the Nissan NV200 Taxi

Designed from the inside out, using input from New York taxi drivers, medallion holders, fleets and passengers, standard interior features and passenger amenities include:
• Ample room for four passengers and their luggage, offering substantial improvements over current taxi models
• Sliding doors with entry step and grab handles, providing easy entry and exit
• Transparent roof panel, presenting unique views of the city
• Opening side windows

• Independently controlled rear air conditioning
• Active Carbon Lined headliner to help neutralize interior odors
• Overhead reading lights for passengers and floor lighting to help locate belongings
• A mobile charging station for passengers, including a 12-volt electrical outlet and two USB ports
• Breathable, antimicrobial, environment-friendly, durable and easy-to-clean seat fabric, simulating the look and feel of leather
• Flat "no hump" passenger floor area for more comfortable ride

Other notable vehicle features are:
• Proven 2.0-liter 4-cylinder powertrain, engineered to enhance the emission performance and fuel efficiency of the taxi fleet
• 150,000 mile powertrain warranty
• A 6-way adjustable driver's seat featuring both recline and lumbar adjustments, even with a partition installed
• Unique driver's seat material and stitching to promote improved airflow
• USB Auxiliary audio input and charge port for driver
• Standard navigation system with integrated rearview backup monitor
• Hearing Loop System for the hearing impaired
• Driver and passenger intercom system
• Pre-wiring for taxi T-PEP system

In addition, important safety features of the Nissan NV200 taxi include:
• Only taxi ever to be safety tested and certified with full taxi partition
• Front and rear-seat occupant curtain airbags, and seat-mounted airbags for the front row
• Standard traction control and Vehicle Dynamic Control
• Sliding doors to lessen risk of pedestrians, cyclists and other motorists getting struck by doors opening unexpectedly
• Lights that alert other road users that taxi doors are opening

The Nissan NV200 taxi will be produced in North America at Nissan's manufacturing facility in Cuernavaca, Mexico.

About Taxi of Tomorrow

In 2007, City officials convened a group of stakeholders, including representatives of taxi drivers, owners and passengers, to create a set of goals for the next New York City taxi cab, a project called the Taxi of Tomorrow. Taxi of Tomorrow was the result of a groundbreaking effort by the Design Trust for Public Space and the NYC Taxi & Limousine Commission (TLC) to re-imagine the entire taxi system – including the vehicle – for the 21st century. In December 2009, the TLC issued a "request for proposals," inviting auto manufacturers and designers to submit their best ideas for a purpose-built vehicle to serve as a New York City taxicab. At the end of the evaluation, the Nissan NV200 was selected and will be the next New York City taxicab for ten years, beginning in 2013.

About Nissan North America

In North America, Nissan's operations include automotive styling, engineering, consumer and corporate financing, sales and marketing, distribution and manufacturing. Nissan is dedicated to improving the environment under the Nissan Green Program and has been recognized as an ENERGY STAR® Partner of the Year in 2010, 2011, and 2012 by the U.S Environmental Protection Agency. More information on Nissan in North America and the complete line of Nissan and Infiniti vehicles can be found online at www.NissanUSA.com and www.InfinitiUSA.com, or visit the Americas media sites NissanNews.com and InfinitiNews.com.

About Nissan

Nissan Motor Co., Ltd., Japan's second-largest automotive company, is headquartered in Yokohama, Japan, and is part of the Renault-Nissan Alliance. Operating with more than 248,000 employees globally, Nissan provided customers with more than 4.9 million vehicles in 2012, generating revenue of 9.4 trillion yen ($US118.95 billion) in fiscal 2011. With a strong commitment to developing exciting and innovative products for all, Nissan delivers a comprehensive range of 64 models under the Nissan and Infiniti brands. A pioneer in zero-emission mobility, Nissan made history with the introduction of the Nissan LEAF, the first affordable, mass-market, pure-electric vehicle and winner of numerous international accolades, including the prestigious 2011-2012 Car of the Year Japan and 2011 World Car of the Year awards.

About BraunAbility

BraunAbility is the largest manufacturer of wheelchair accessible vans, ramps, and wheelchair lifts worldwide and enables people with physical disabilities to regain mobility and lead active and independent lives. The company was founded by Ralph Braun, who was diagnosed with spinal muscular atrophy at a young age and unable to walk by age 15. Ralph was motivated by his disability to invent the world's first electric scooter and wheelchair lift in his parents' garage. Word spread and demand for the product increased, resulting in the birth of Save-A-Step Manufacturing, which ultimately became BraunAbility. The company offers both personal-use and commercial-use products. Personal-use vans and lifts are offered through a network of over 200 dealers throughout the U.S. and Canada. For more information, or to find a BraunAbility dealer near you, please visit www.braunability.com or
www.facebook.com/braunability.
---
By Seyth Miersma
---
See also: Nissan NV200 finds new work as ambulance, Gibson guitar repair truck, 2014 Nissan Pathfinder Hybrid arrives with supercharged engine, 26 mpg combined, Nissan recalls nearly 20,000 NV vans over gearshift issue.