New Mercedes-Benz S-Class Coupe spied in revealing state of dress
Tue, 19 Feb 2013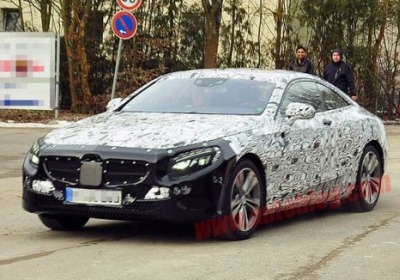 During a product briefing earlier this year, Mercedes-Benz told us that 2013 would be the "year of the S-Class." Makes sense, too, since the flagship Mercedes is so very close to finally showing its production-ready face. But the high-tech saloon isn't the only S-Class to talk about this year – quite the contrary. Seen here in decidedly revealing camouflage, the new S-Class Coupe will be joining its four-door compadre in the not-too-distant future, as well.

When it launches, the S-Class Coupe will officially do away with the CL-Class nomenclature. This doesn't come as a huge shock. After all, when the new E-Class coupe and convertible were launched, it officially marked the end of the long-running CLK-Class designation.


Thanks to the interesting camouflage seen here, we have a very good glimpse at how the S-Class Coupe will look when all of the molding and swirly paper are peeled off. Rakish body lines pulled from the CLS-Class meet a much more dynamic front fascia. Out back, there are horizontal taillamps rather than the vertical units used on the current car, and the whole package seems very svelte. Our spy photographer even posits that this will be "the best-looking car from Mercedes-Benz in ages."

But while 2013 may be the year of the S-Class, that could just be limited to spy shots of the new coupe. The production car may not be shown until sometime in 2014, likely in Geneva.
---
By Steven J. Ewing
---
See also: New Die Hard movie wrecked 132 cars in $11 million chase scene [w/video], Gullwing America turns SLS AMG Roadster into stunning 1955 300 SC redux, Mercedes AMG and Cigarette Racing debut 2,220-HP electric motor boat.