Mysterious small Ford spied in Germany
Sat, 29 Jun 2013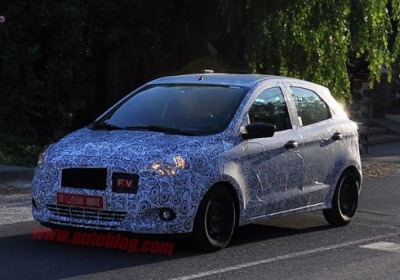 Our spy photographers have just popped off a few shots of something curious. This little runabout was spotted in Germany out testing with a current-generation Ford Fiesta. We're fairly confident the machine is a Ford, but exactly which Ford model is up for debate. The hatchback could be the next-generation Ka, but we've also heard that the Blue Oval supermini might not get a replacement. Our shooter says the five-door is a bit smaller than the current Fiesta, though there is a chance that this rig is just an engineering mule for drivetrain development. Then again, it could be a model built specifically for the South African market or China, or not a Ford at all.


Whatever it is and wherever it's headed, you can check out in the gallery for a closer look before heading into Comments to weigh in with your best guess.
---
By Zach Bowman
---
See also: Bill Ford augments his power by nearly doubling stake of supervoting shares, What an Atlas-based Ford F-150 might look like, 2014 Ford F-150 Tremor adds some sport to shake things up.