Mini attempts first-ever backflip in a car
Fri, 04 Jan 2013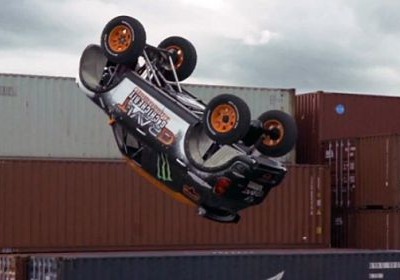 Not too long ago, the idea of doing a backflip seemed almost impossible on two wheels let alone four, but now the stunt is routinely performed using everything from dirtbikes to monster trucks. Now Mini is getting into the game by attempting to perform a backflip with French stuntman Guerlain Chicherit behind the wheel of a highly modified Countryman, which it claims is the first-ever attempt at doing so with a car.

Another unique element of the jump that Mini is claiming is in regards to the ramp. Past automotive backflips, including Rhys Millen's 2009 jump to ring in the New Year, have used special ramps that help rotate the car, but the ramp Chicherit uses is "unassisted" and the backflip is attempted using only "a gas pedal and a prayer" according to a Mini spokesman for the event.


The video posted below is only a teaser showing the car launch up into the air, but while we have to wait until February 10 to see the final result, it sounds like the landing was a success. According to the Chicherit's Facebook page, practice for the stunt took 18 months of work with "lots of crashes."


---
By Jeffrey N. Ross
---
See also: Mini John Cooper Works Paceman is a hot hatch crossover coupe, New Zealand SPCA teaches rescue dogs how to drive a Mini, J.D. Power: Mini, Lexus again offer most satisfying sales experience.