Mercedes-Benz S-Class spied once again
Fri, 08 Feb 2013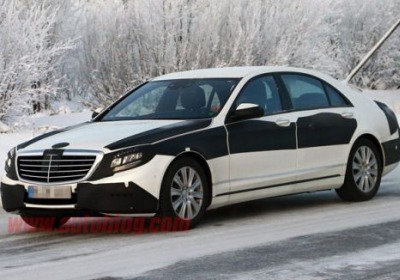 As evidenced by how little camouflage the next-generation Mercedes-Benz S-Class has been caught wearing lately, it can't be too much longer until the car will get its official debut. In our newest shots of the yacht-sized luxo sedan, the cladding still covers up the headlights, front fascia and most of the rear end, but we finally have an almost undisguised look at the rest of the car's lines.


Considering previous spy shots had more camo that better (or fully) concealed the S-Class' body, some of the more obvious things we see in these images include the prominent grille, the CLS-Class-inspired bodyside creases, the pointed trunk opening and, most interestingly, a lack of fancy exhaust outlets. Unlike other S-Class prototypes we've seen, this car does not have integrated outlets, but it does have two pipes on the left side of the car. All current S-Class models in the US and Europe feature a dual exhaust layout on each side of the car, so while some of our questions about the car get answered, it would appear that more are just arising.
---
By Jeffrey N. Ross
---
See also: Mercedes goes boating again with G63 AMG-inspired Cigarette, 2014 Mercedes-Benz CLA order guide leaked, UK workers strand car on island of asphalt to keep working.