Martini Mustang is a 'what if moment' gone right
Wed, 23 Oct 2013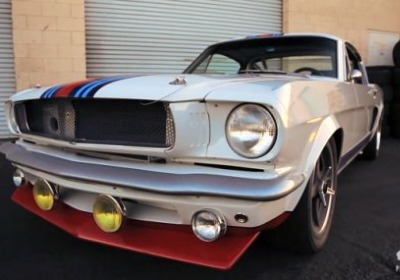 Feast your eyes on a masterpiece. This is Steve Strope's Ford Mustang in the classic fastback bodystyle, and as you'll notice, it sports the signature colors of Martini Racing, a livery that's as legendary as any Gulf Racing-styled car. But the red, white and blues of the Martini stripe down this Mustang's middle tell only a very small part of the story, in the latest video from Petrolicious.

What would you guess is under the hood? A 289-cubic-inch V8? Maybe a 302, or some absurd Ford crate engine? Maybe Strope went all Tokyo Drift - he's actually responsible for the "Hammer" Plymouth Satellite driven by Vin Diesel at the end of the movie - and found an RB26DETT to drop into the pony car? You'd be wrong on all counts.


This mad, mad man somehow finagled a Ford-Lotus engine from a 1966 Indianapolis 500 car into the Mustang's engine bay. Yes, a Mustang with an engine designed for a 160-mile-per-hour, open-wheel racecar. That's like someone in 40 years dropping McLaren's 2.4-liter V8 from the MP4-28 into a Scion FR-S. It'd just make a monster.

We'd be saluting Strope and his Mustang if he just stopped at the engine and paint job, but as you'll see after watching this video, the rest of the car is just immaculate. As for Strope's reasoning behind the Martini colors? It's all explained in the latest video from Petrolicious, which can be found below.



---
By Brandon Turkus
---
See also: Ford GT40 makes historic return to racing at Goodwood, Detroit's new fleet of donated police cars have safety issues [w/video], Hertz goes Dutch with Ford Focus ST-H.